News
May 5, 2016
10 Things to Know About Our Team's Winthrop Square Proposal
//php $catname; ?>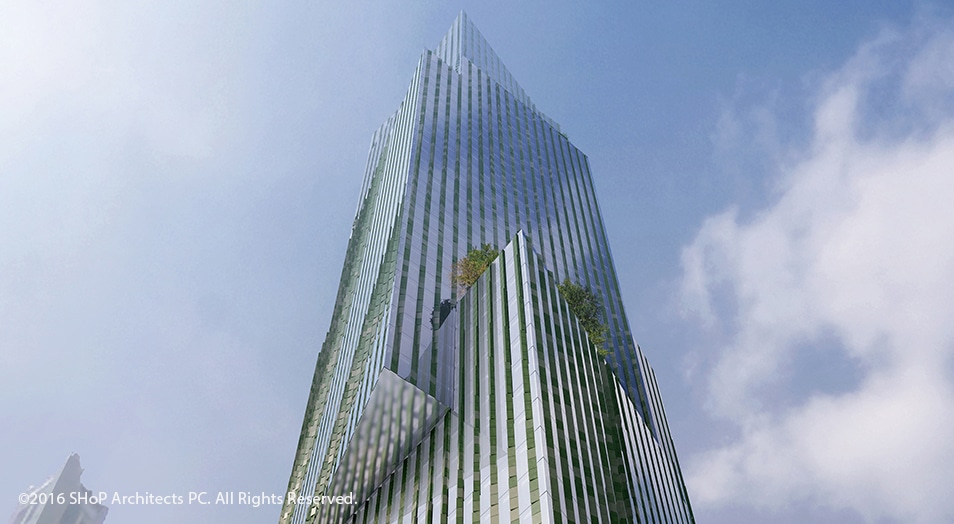 Here are ten things which distinguish Accordia Partners' vision for Boston's Winthrop Square from the other submissions.
 1. LOCAL DIVERSITY + INCLUSION: An Opportunity and Responsibility to Our Community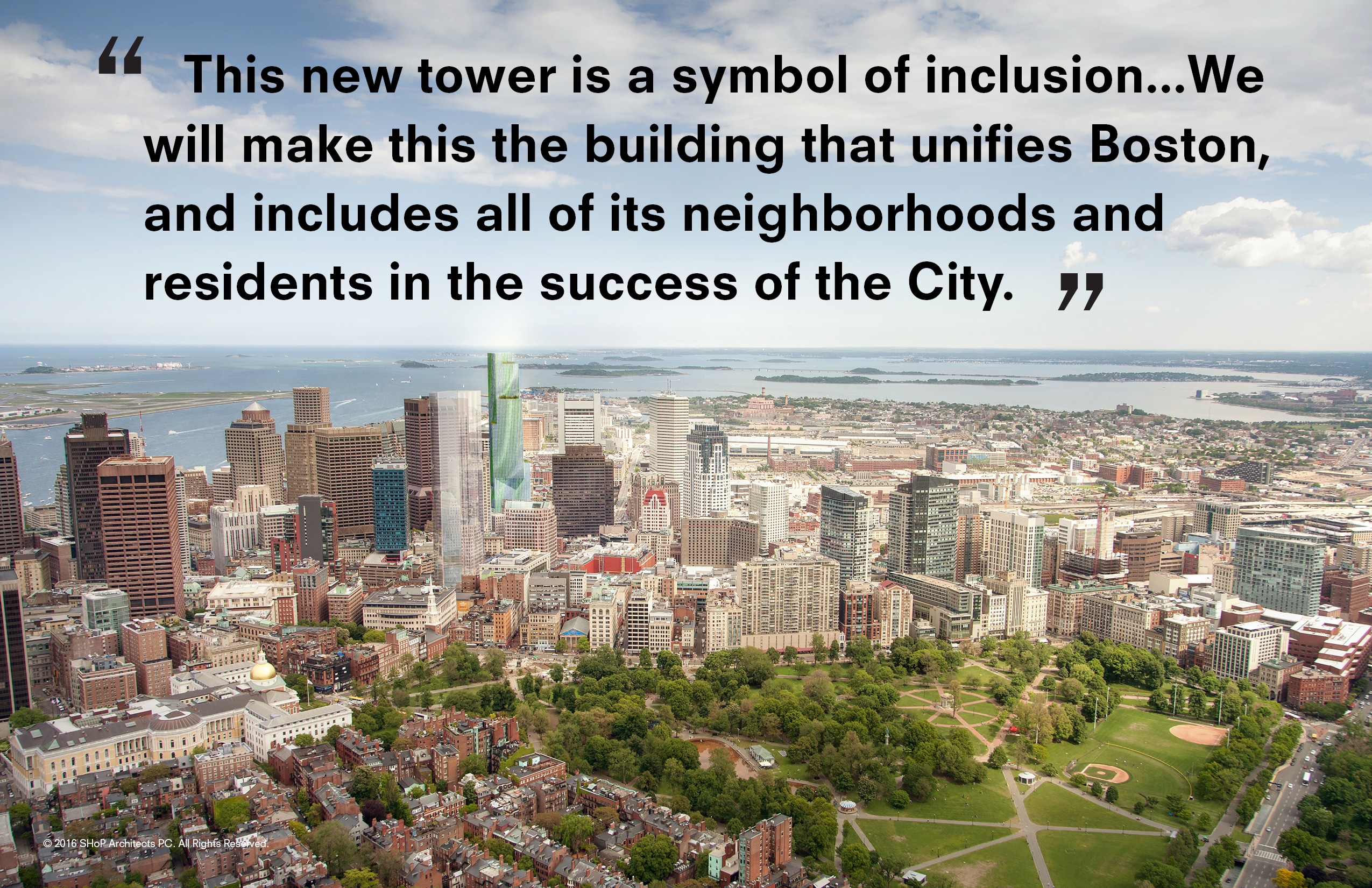 Accordia's first and foremost strategy for economic development is a focus on diversity and inclusion of Minorities and Women in Business Enterprises (MBE/WBE) and individual women and minorities that have often been under-represented in Boston's economic success. Beyond the diversity within our development and ownership team structures, Accordia will have a special focus on ensuring that hiring practices and awards of subcontracts by our project team will adhere to our significant standards of participation and inclusion. In fact, Accordia Partners itself is a certified MBE, which was founded by Kirk Sykes, of Primary Corporation, and Richard Galvin, of CV Properties, coming together to form the real estate development company focusing on complex urban public private partnership opportunities in Boston and New England enhanced by their tremendous local relationships. Our team's design utilizes the same strategy of inclusion to create a place that all of the diverse residents and visitors of Boston can "own", and benefit from. (see endnote A)

2. THE ICONIC TOWER FORM: An invitation for all of Boston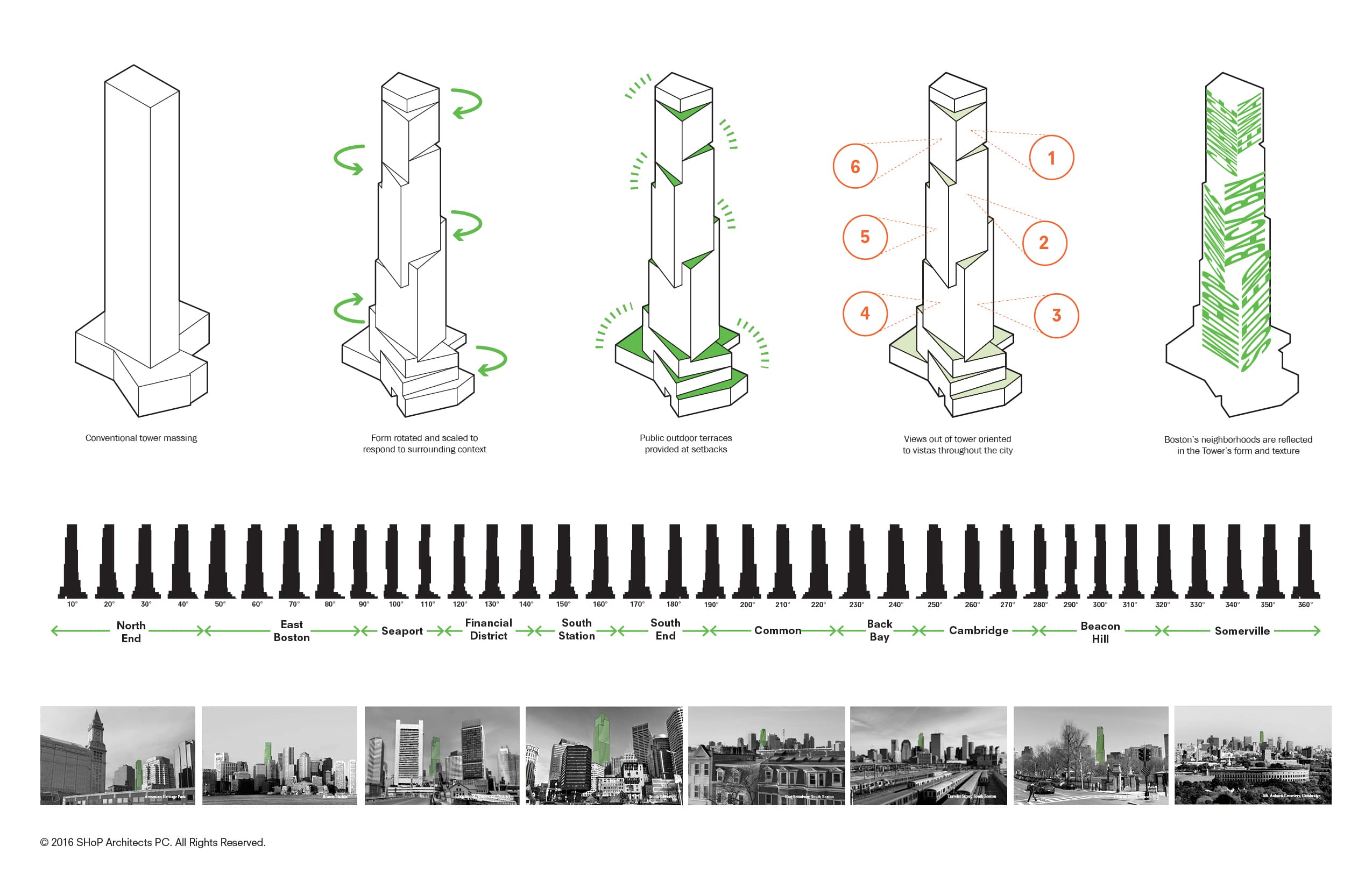 The inspiration for Accordia's iconic and original design takes its cues from Boston, near and far. Responding to the site and to the uniqueness of the city's neighborhoods, the tower form makes it move by turning to Boston's diverse neighborhoods to say 'hello'. It is at once a building for all – from afar, up close and inside. (see endnote B)
3. HOUSING FOR ALL OF BOSTON: Housing Linkage and Affordable Housing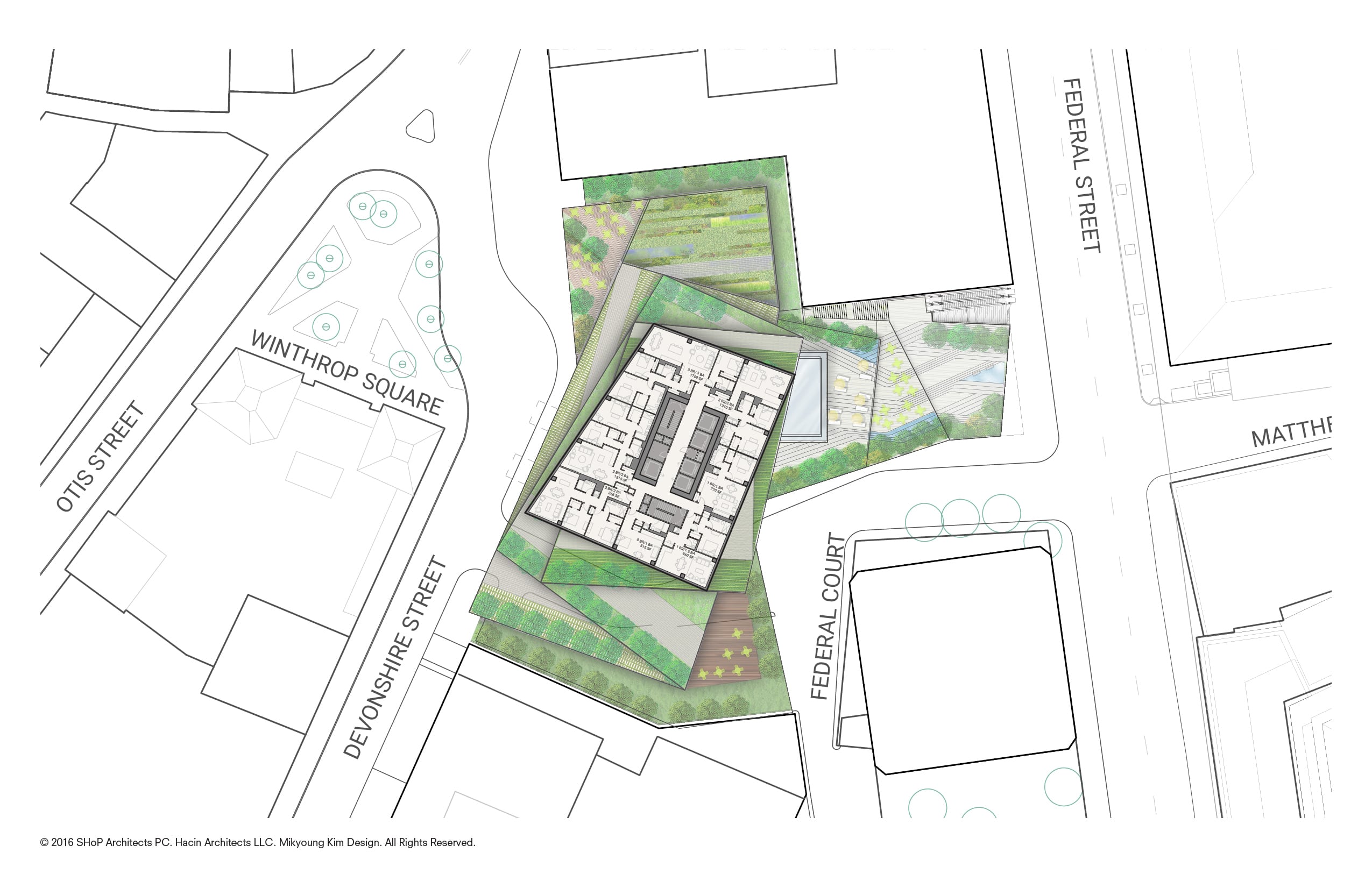 Accordia is proposing to use the housing linkage obligations – 20 million for the size and scale of this project – to spread the payments to the Inclusionary Development Policy Fund, amended into a single, expedited payment. This enables the pursuit of multiple offsite housing solutions through the different neighborhoods that would allow the deliverability of a higher-density and higher-quality affordable housing to those communities. This will foster long-term sustainable development for individuals that are under-represented in the real estate and construction industry while providing opportunity for developers of local communities and M/WBEs at a significant scale. We are putting the link back in linkage to improve the quality of life in Boston's neighborhoods. (see endnote C)
4. RESPECTING THE URBAN REALM: Celebrating Boston's Fabric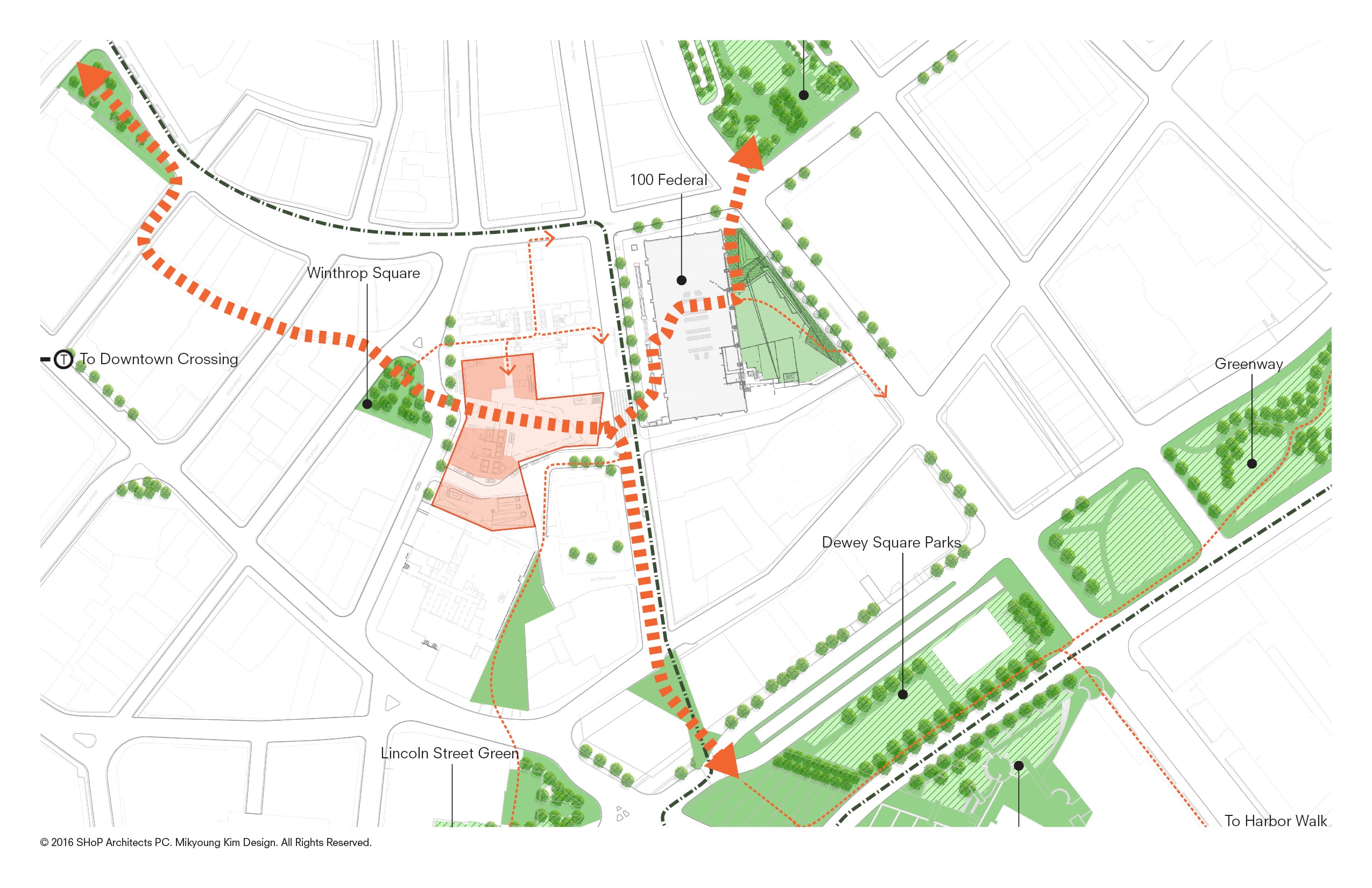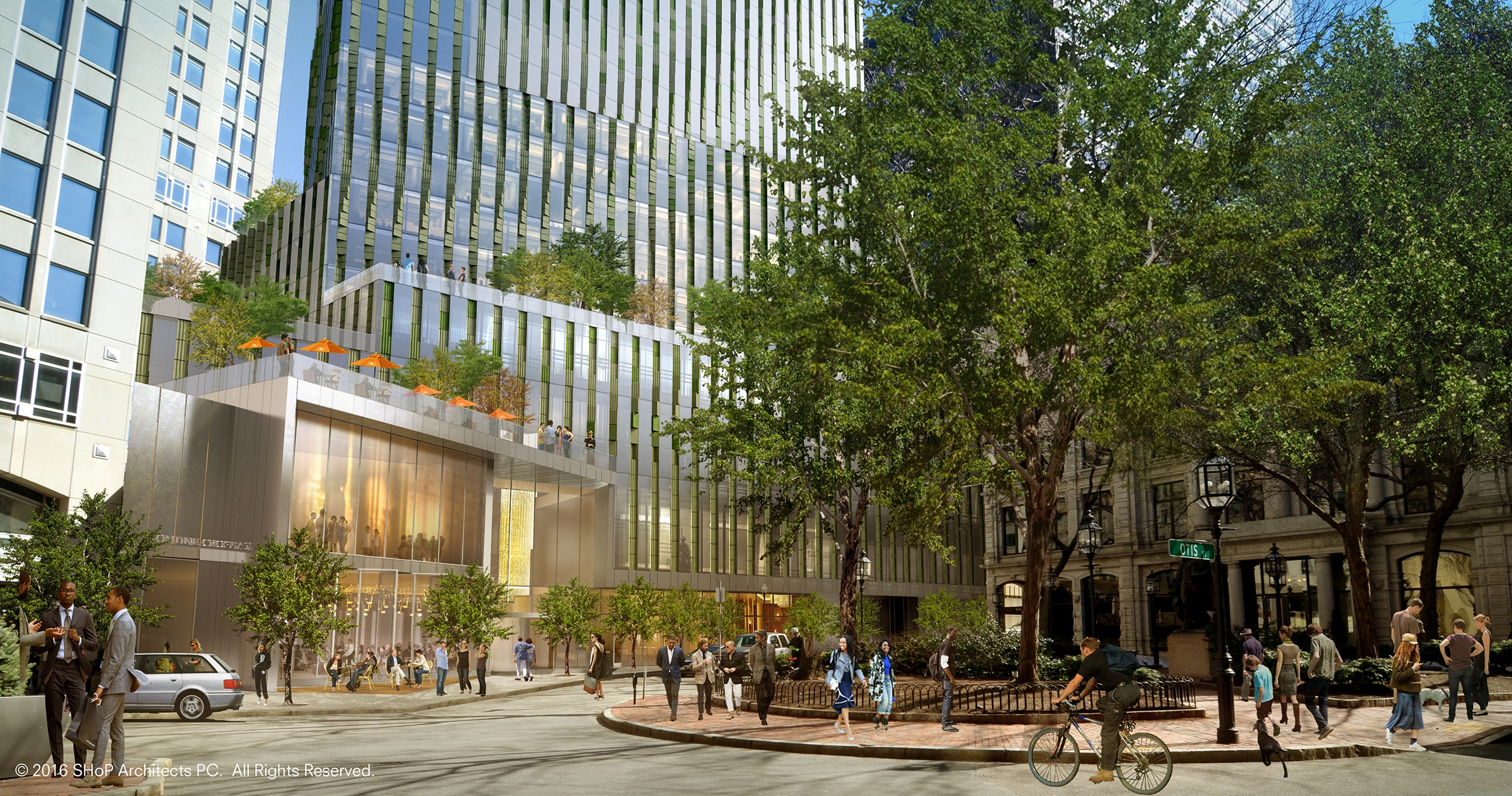 Accordia's strategy for siting and massing the tower is focused on respect. The design shows respect for the historic Winthrop Square scale by not overwhelming it, and honors the direct abutters with setbacks to provide light and air, instead of building against their walls. This also means the project can celebrate the scale of Boston by including public access to civic spaces throughout the entire tower and become more than just a friendly neighbor. (see endnote D)

5. NEW THRU-BLOCK PASSAGES: An invitation to interact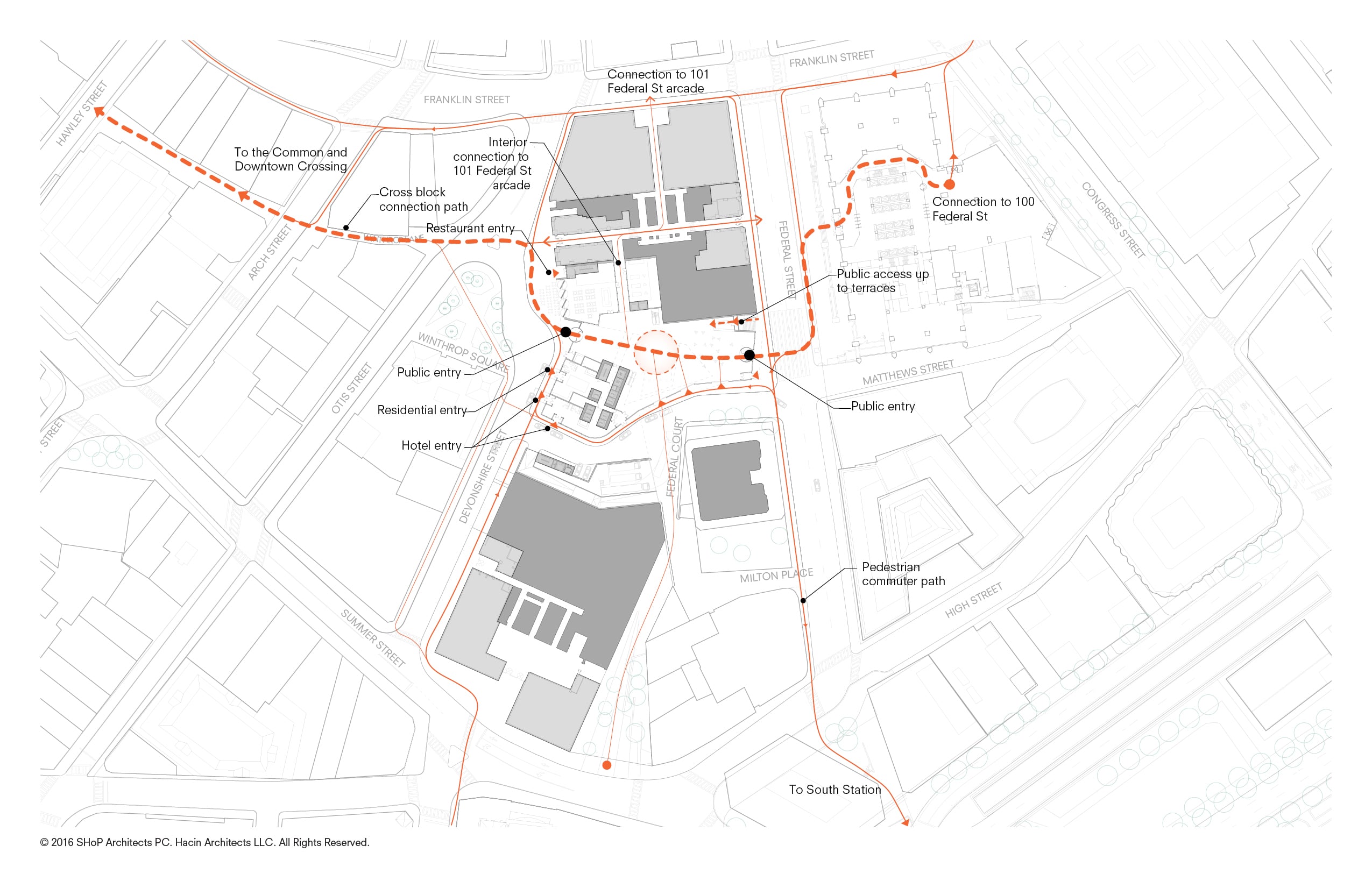 Accordia's proposal has multiple through-block connections which connect to the existing fabric, both exterior and interior, including an exterior pass-through (pedestrian/bike/automobile), a connection to the 75-101 Federal St arcade through our ground level, and entrances to the tower which can be accessed from four different streets – Federal Street, Devonshire Street, the new Federal Court extension, and Franklin Street through the 75-101 arcade connection – to help create an ultra-permeable public amenity. (see endnote E)
6. PUBLIC ARTS: An invitation to explore
Accordia's proposal includes a committed public arts focus. Both the creative and performance arts are promoted through spaces for major art installations, a 175 seat black box theatre, and the "oculus" – a multi level 360-degree programmable media veil that opens to the sky while acting as mechanism in helping the design achieve LEED Platinum sustainability. In addition to the dedicated program space within the tower, the atrium will include free interactive displays that guide visitors to Boston area art institutions and offerings. (see endnote F)
7. TOP LEVEL PUBLIC OBSERVATION DECK: An invitation to learn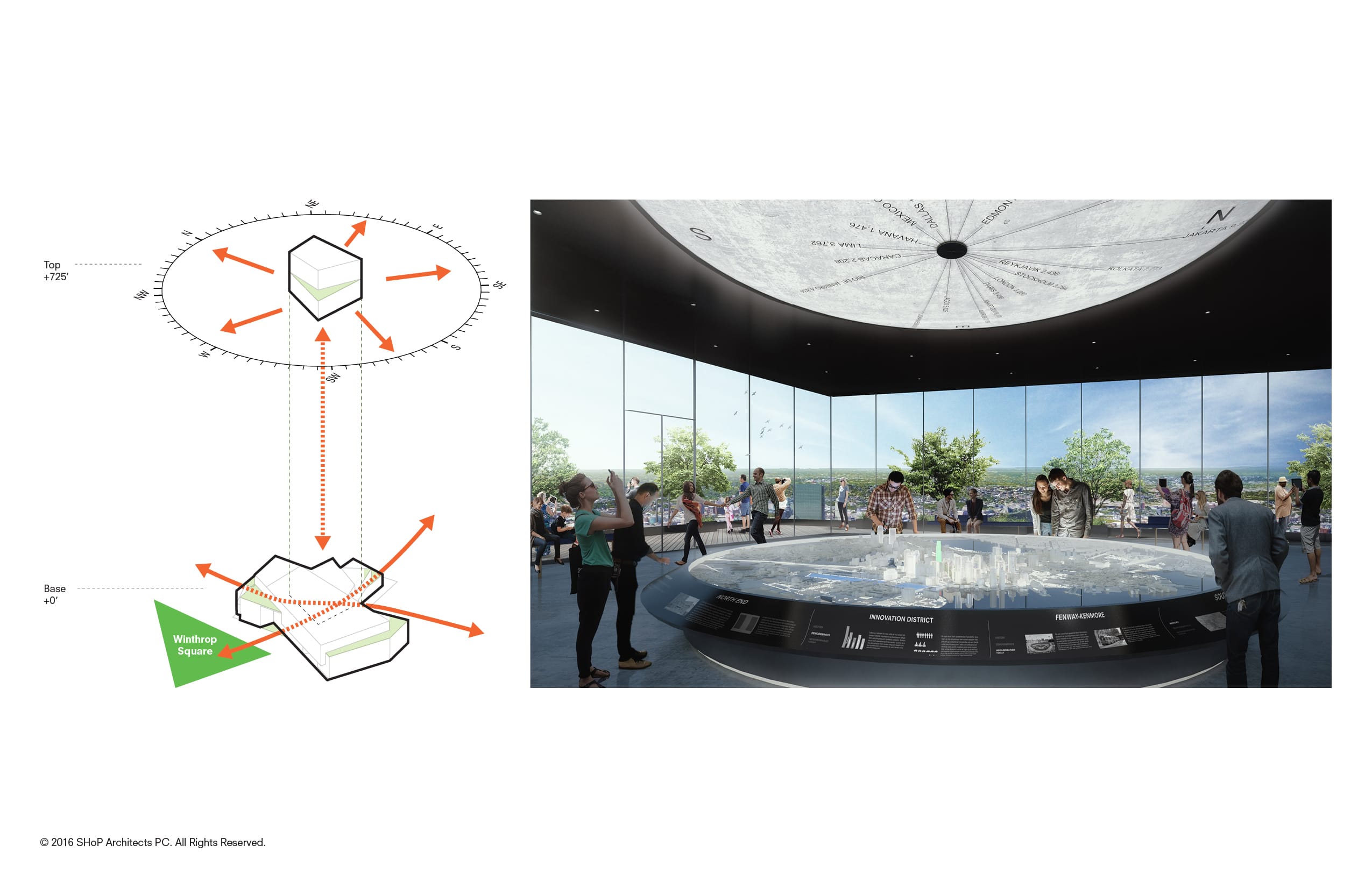 Accordia's proposal has multiple levels of observation decks at the top of the tower, including a 360 degree public vantage of Boston on the 56th floor, the singular proposal that responded to the City's request for an observation deck within the top third of the tower. The observation deck will be used as way to focus not on Boston's history, but on Boston's current stories through the eye (or iPad) of its neighborhoods. Keeping in the theme of inclusion, an opportunity for neighborhoods to interact with the observation decks from their unique vantage points can be seen through nightly light shows allowing each community to "own" a night. (see endnote G)

8. TERRACED LANDSCAPE OF INCLUSION: An invitation to gather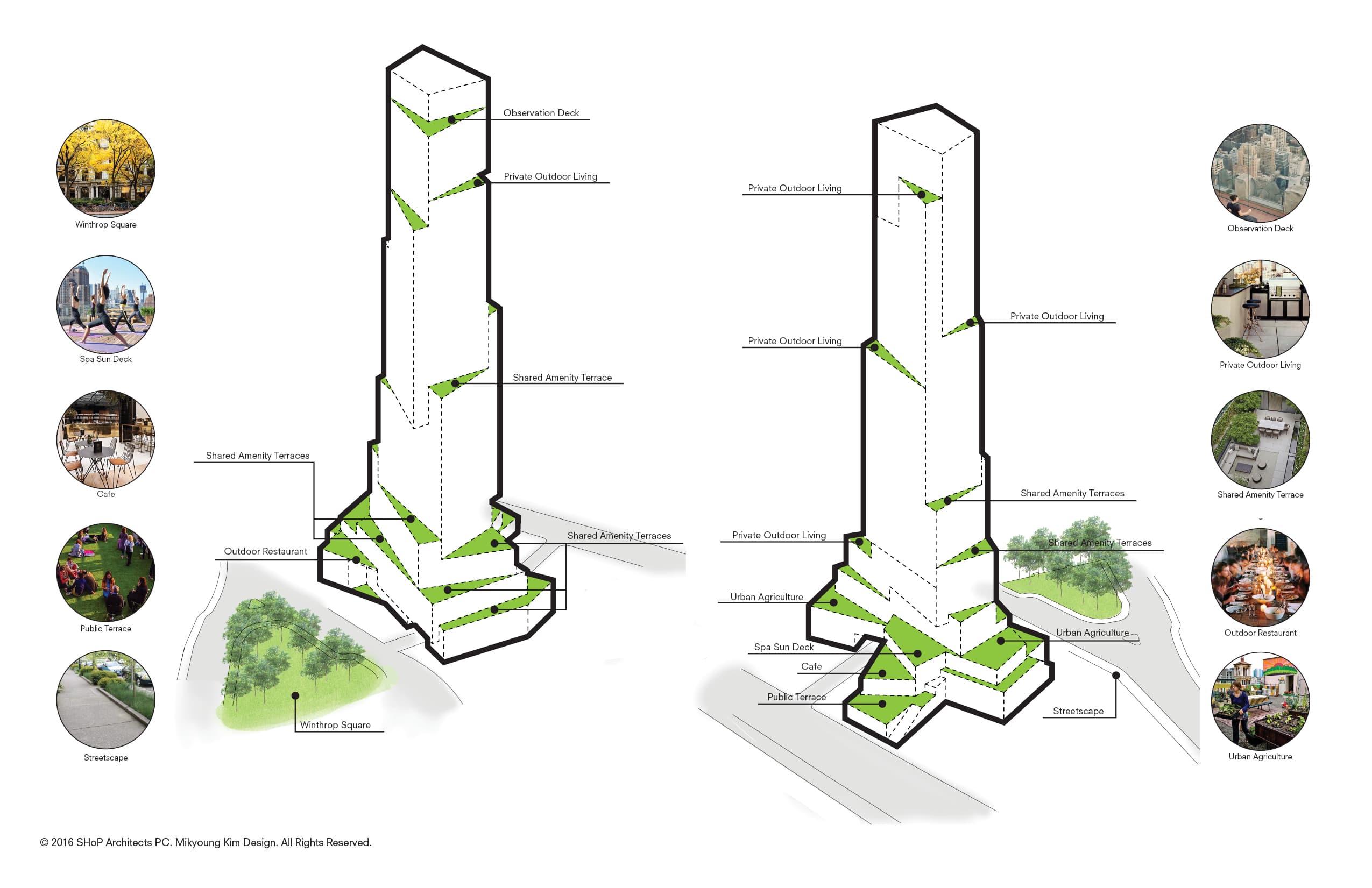 Accordia's proposal highlights Boston's premier outdoor spaces – that starts blocks away at the Greenway, Post Office Square, and The Common – by connecting to and elevating the green experience by going vertical and providing new unique exterior programmed terraces throughout the tower, with public access on both Federal and Devonshire Streets lower levels. An exterior public grand stair from Federal St will provide the public with direct exterior access to these new "green" spaces and more connections into the public podium and the hotel lobby levels. Plans of these levels can be found on page 92-99 in the RFP. (see endnote H)

9. ACHIEVABLE SUSTAINABILITY: LEED Platinum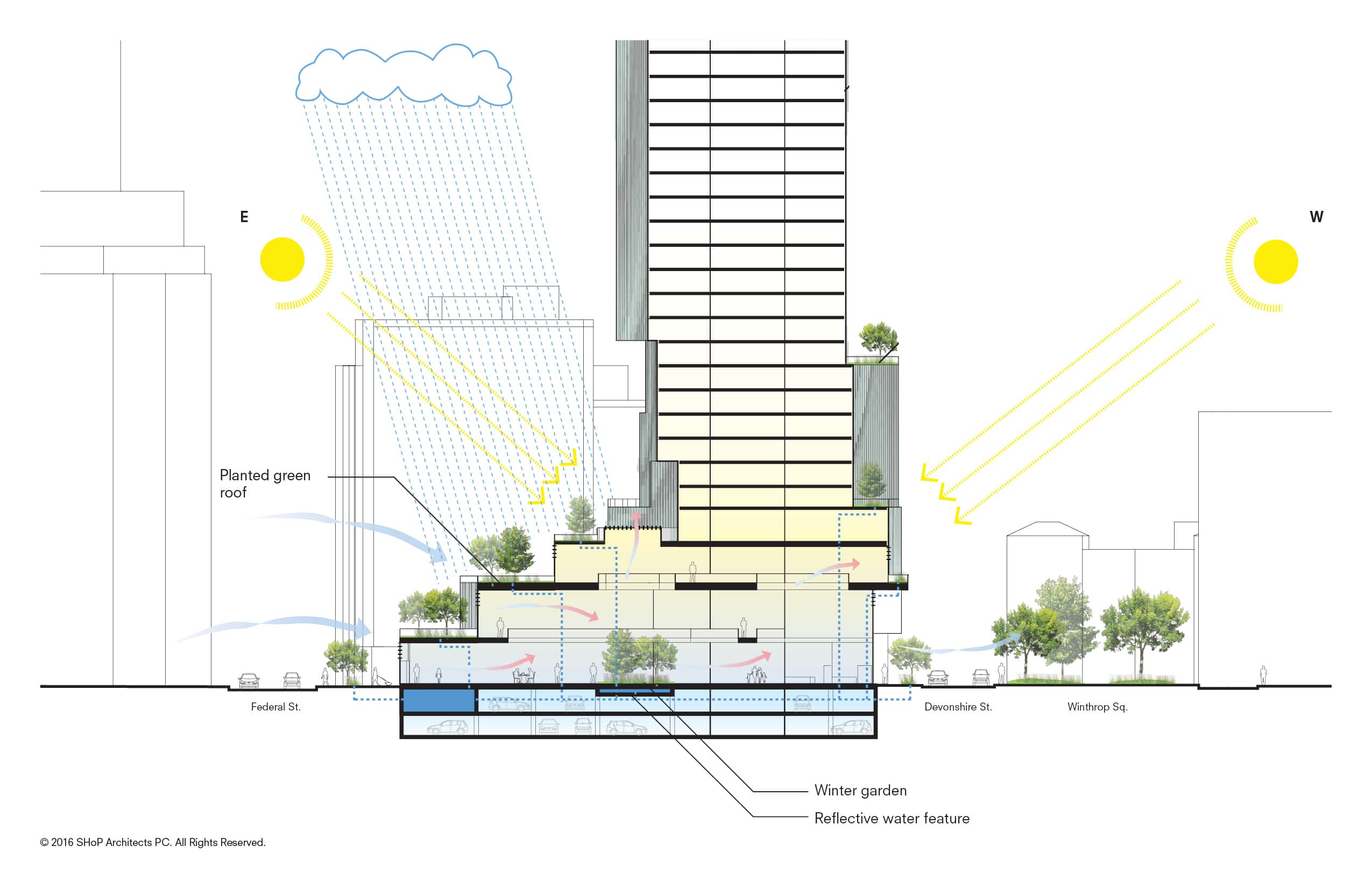 Accordia's proposal responds directly to the RFP requirement for a LEED Platinum sustainable development – one of the few responses to do so. Together with YR&G and Fraunhofer USA, the team has developed a formula for the project to support this goal and a path to achieve LEED Platinum certification is attainable. (see endnote I)

10. DEVELOPMENT TEAM: Global Recognition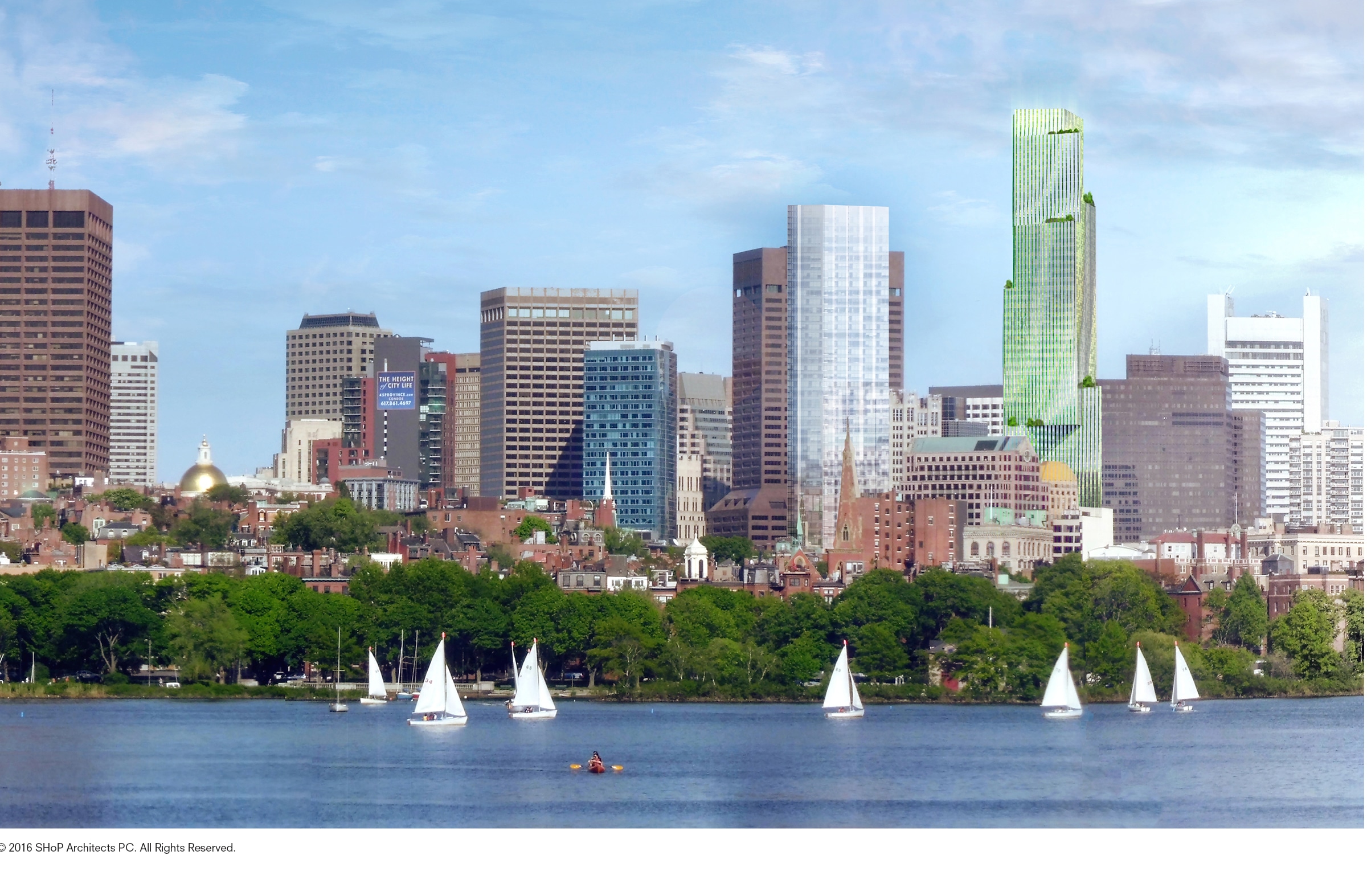 Accordia's Architectural and Engineering team is extremely qualified and globally recognized for their design excellence, performance, innovation, and local expertise. The A+E team includes, SHoP Architects, Hacin, Mikyoung Kim, Thornton Tomasetti, WSP Engineering, Clark Construction, Fraunhofer USA and YR&G. (see endnote J)
DEVELOPMENT SUMMARY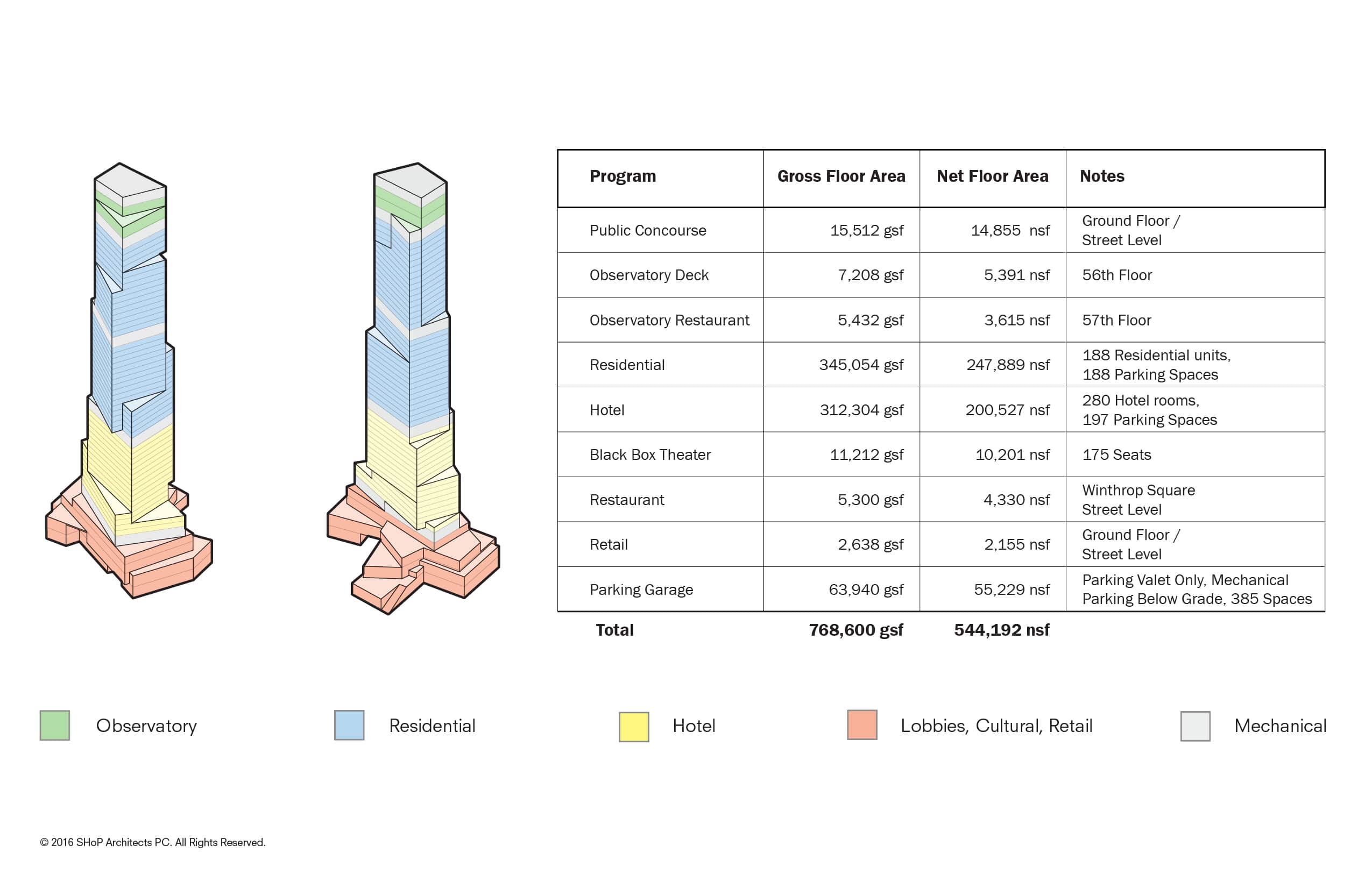 CONTACT
Kirk A. Sykes
Managing Partner
ksykes@accordiapartners.com
A full copy of the Accordia Partners RFP response and Committee Presentation is available on the BRA website through the link here.
Comments and support, which are greatly appreciated, can be submitted to the BRA through a form found on the Website linked above.
Team social media handles:
[A] Pages 42-46 in Accordia's Proposal describe our MBE/WBE inclusion strategy in detail. The quote is from page 18  Aerial Image from PG 8 in the RFP.
[B] Page 56 in Accordia's Proposal states: "The Design takes its inspiration and formal cues as much from the city as a whole as it does from its particular site. The tower celebrates diversity by keying its variable form to achieve unique silhouettes when seen from different neighborhoods throughout Boston and adjacent cities, and it also becomes a symbol of inclusion, by bringing together from its many facets a single, inspiring form that will mark a new high point on the skyline." Graphics from RFP pages 56-59.
[C] Page 46 in Accordia's Proposal states: "In an effort to further connect our tower to the neighborhoods, we have identified neighborhood housing sites that can be connected to the tower through IDP payments. Because our development program includes luxury condominiums, which forces a premium on the per unit contribution to the IDP Fund, Accordia will also pursue an alternative off-site affordable housing solution. We are currently exploring both sites and local non-profit development entities where we could jointly deploy our funds and recourses towards the creation of both affordable and workforce housing in locations outside of the mandated half-mile radius of the project. We believe this approach may allow us to deliver a higher density affordable housing solution with similar construction and finish quality to our proposed development at Winthrop Square, which will produce more high quality affordable units in our city. Given this strategy and the scale of the linkage dollars referenced above, we believe dozens of units associated with this program could be created, and created quickly, while at the same time providing opportunity for local community based developers, as well as more opportunities for the M/WBEs we are trying to nurture and support for the bigger project."
[D] Page 60 in Accordia's Proposal states: "The tower is conceived as an exuberant celebration of Boston's historic street pattern. In addition to serving as an index of connections to Boston's neighborhoods, its multi- faceted, stacking form is also an elegant expression for a city that grew out of the storied "cow paths" rather than the sterile, controlling grids common to other American cities. In that sense, our design for 115 Winthrop Square is uniquely Boston—seeming at once to cascade down into the streetscape and to carry those same human-scaled geometries into the sky. Endeavoring to t itself to the native patterns of Boston, rather than imposing a foreign order, at the ground the design lends itself to becoming a natural extension of existing pathways, connecting critical public open spaces throughout the Financial District." Graphics from RFP pages 56-59.
[E] Page 76 in Accordia's Proposal states: "The proposal will enhance the public realm by creating multiple through-block pedestrian, bicycle and vehicular connections between surrounding streets and open spaces to create a more vital, permeable and integrated public realm. The major public concourse connects Winthrop Square and Federal Street, with prominent public portals anchoring each side. The public concourse makes internal links to the existing public arcade through 101 Federal Street to create a new pattern of pedestrian movement through a more permeable block, allowing for multi nodal connections to the Boston Common via Downtown crossing, the Rose Kennedy Greenway, Post Office square park as well as the new 100 Fed Pavilion, improving access to public transit through these connections." Graphics from RFP pages 56-59.
[F] Page 64 in Accordia's Proposal states: "Inside and out, as it meets the ground, our design invites the public to interact and explore. A series of planted public terraces comprise an entirely new streetscape amenity for Downtown Boston, one that reinforces the explorational feel of local streets, squares, and plaza, but that also provide a new perspective for experiencing the city. The through block passage is conceived as a site for major installations of public art in a variety of media—focusing perhaps on the work of contemporary New England artists—and the Black Box theater accessed there meets a profound local need while also introducing a destination that, in concert with the program of the hotel located below the residential floors of the tower, will help to consistently enliven the public spaces. Directly connected to catering, meeting facilities, public transit and parking, the theater becomes more robust and viable than a stand-alone facility, assuring its heavy use and its ability to serve as a powerful attractor for civic activity."
[G] Page 69 in Accordia's Proposal states: "The building's theme of inclusivity and celebration of Boston's true diversity are further developed by the provision of an Observatory. Located on 56th floor, a new and unimpeded 360-degree vantage on the city and the harbor will be enhanced by interactive augmented reality (AR) technologies that "project" interpretive materials into the visitor's field of view. Rather than focusing on the historical, as exhibits at the Hancock Building's observatory once did, in keeping with BRA's future-looking emphasis for this project, the stories told here, looking out over the city's neighborhoods, will focus on Boston today. This novel public amenity will also include a restaurant on the 57th floor that opens on to an open-air terrace—the last in the series of planted levels that spiral around the building as it rises. Together, these welcoming and publicly-accessible programs at the top of the building form a strong, functional unit with the ground-level programming: working together to communicate a sense of openness and civic ownership throughout."
[H] Page 66 in Accordia's Proposal states: "The landscape design will encourage a vibrant civic center that invites pedestrians to enter into this exciting urban experience. It serves to activate the pedestrian realm with innovative materials and sustainable strategies, linking the green spaces in the project to other major interior and outdoor civic spaces nearby, including Post Office Square and the Rose Kennedy Greenway. "Green" programming related in scale to those existing spaces spirals upwards along the building offering a wide range of amenities, including an urban farm experience, a spa deck, outdoor cafes, and a public park. The streetscape design along Devonshire and Federal Court offers pedestrians a green urban experience. The sidewalk planting incorporates sustainable storm water harvesting strategies. A variety of textures and native plantings offer a pedestrian scaled experience. At night, the upper plaza transforms into an exciting and dynamic programmed experience. The main reflecting pool will emit mist that is lit with LEDs, creating a kaleidoscope of colors, inviting people into this cultural center. In-ground paving lights create a constellation of patterns that emerge at night. The landscape is designed to wrap the tower, creating a cohesive and dynamic experience of water, light, and stone. Inside/outside relationships are highlighted, such as the Farm to Table Restaurant with the Urban Farm Terrace. As a series of green spaces, the landscape offers a diversity of experiences that create a vibrant destination at multiple levels within the project."
[I] See page 72 in Accordia's Proposal for a detailed explanation of our Sustainable Strategies to achieve LEED Platinum. An enlarge sustainability section can be found on pg 73 in the RFP.
[J] Pages 19-37 of Accordia's Proposal further details the team structure, qualifications, and roles.
[K] Pages 40-41 in Accordia's Proposal