News
January 3, 2013
Boston Home Magazine: Mount Vernon Street Townhouse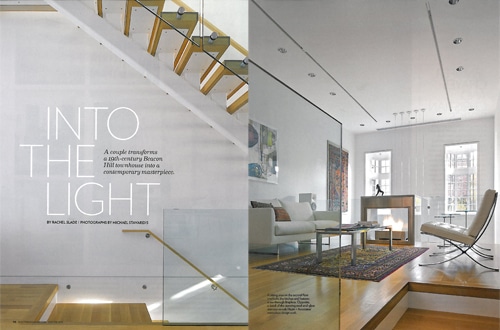 Featured this week in Boston Home Magazine, is Mt. Vernon Street Townhouse.The 10-page spread, "Into the Light," discusses the challenges involved in transforming a narrow historic Beacon Hill townhouse into an illuminated, well-functioning, modern home.
"Mathematic physicists [Jennifer Chayes and Christian Borges] were seeking a home as sophisticated as they are – one with plenty of light, advanced sound and climate systems, and a bright, clean interior… Fortunately a tabula rasa appeared at just the right time, in the form of a gutted five-story townhouse in Beacon HIll. Abandoned by a developer, all that remained was a hollow shell and some basic framing. Chayes and Borgs agreed that they could handle a major construction project. So with design help from Hacin architects, they set about turning the pitiful construction zone into a contemporary home in the heart of the city."  Check out some of the blog – exclusive before and after photos!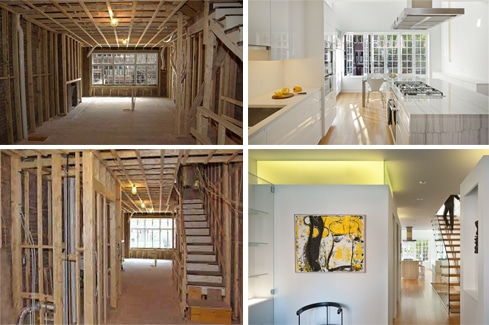 The design team took every opportunity to maximize natural light during the gut renovation of this 13-foot-wide building. Because Jennifer and Christian had an extensive collection of art glass, exploring the properties of glass became a major conceptual driver for the project, for reasons both practical and aesthetic. The focal point of the house became the central stair: its glass treads and structural glass panels allow daylight to filter from a large skylight down into the deepest spaces of the slender vertical home. Click here to read the full article.