News
July 18, 2014
District Hall Sponsor, IdeaPaint, Gets Creative in Copley Square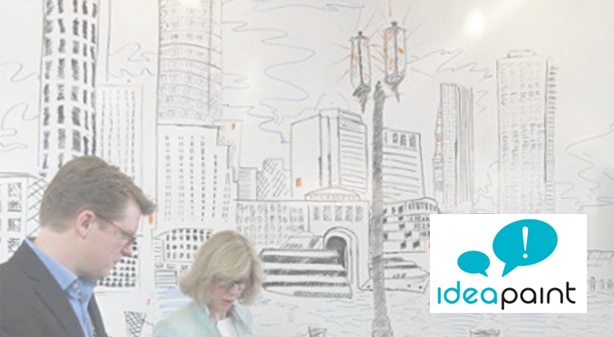 Boston-based company IdeaPaint, Inc. teamed up with District Hall to cover many of the walls in its eponymous product, a dry-erase paint. The paint, which is environmentally friendly, makes impromptu meetings or quick rendezvous simple, as it coats the walls of District Hall's assembly space, meeting pods, and open seating lounge allowing people to draw, write, and share ideas whenever, wherever.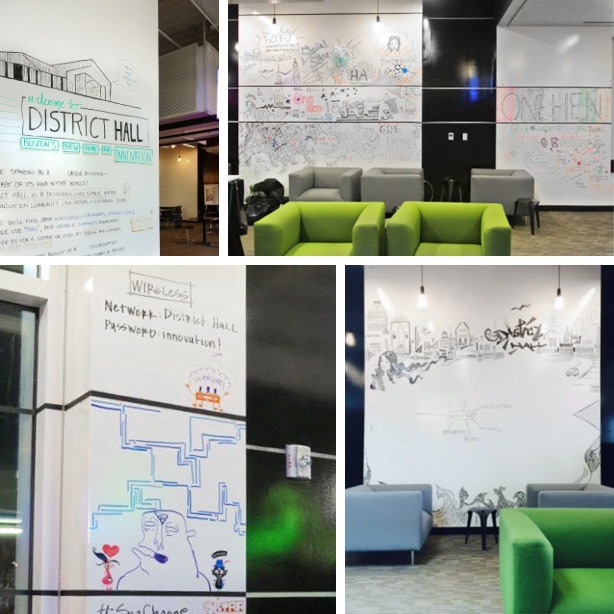 IdeaPaint is showing up elsewhere around Boston, too. The company recently teamed up with the ONEin3 Council, a team of young adults striving to make Boston a desirable location for 20-34 year olds to live, on a project to capture the city's spirit and diversity. This Saturday, July 19, members of ONEin3 will be hanging out around Copley Square and asking passers-by to complete the sentence, "We are Boston. Boston is______." The team will film each person as he or she writes an answer on the IdeaPaint board and then, at the end of the day, create a time-lapse video illustrating the event.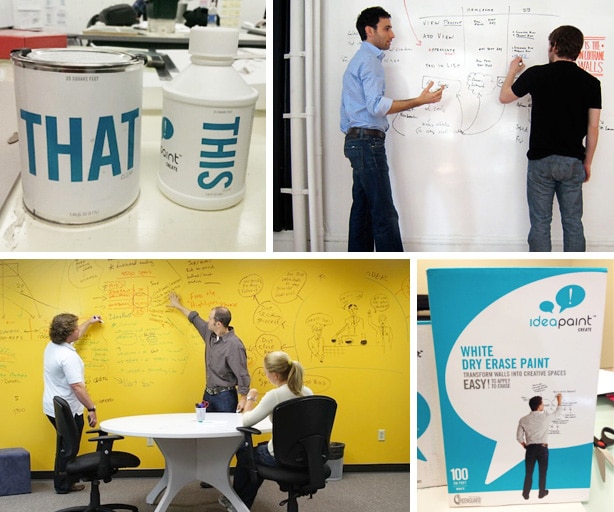 Though IdeaPaint is partaking in these activities around Boston, the company is also pushing its usefulness in offices worldwide, most recently by designing a survey to discover what employees are looking for in a work environment. The "Functional Workplace Survey" asked 600 members of the workforce their opinions on all aspects of life at work,  including space planning, office design, and what the next generation will want in a workspace. IdeaPaint believes that its product can help create an ideal collaborative work environment and offices of the world appear to agree. Floor-to-ceiling dry-erase surfaces can be found at Quicken Loans, Paypal, Reebok, and Welch's offices to name a few, and IdeaPaint continues to expand. By getting people moving and interacting with coworkers, friends, or a neighboring designer, IdeaPaint creates a collaborative and innovative environment out of any flat surface. Take a peak at IdeaPaint's inventive products and accessories here!