News
September 23, 2014
The Lawn on D Street: Playground of the Innovation District
//php $catname; ?>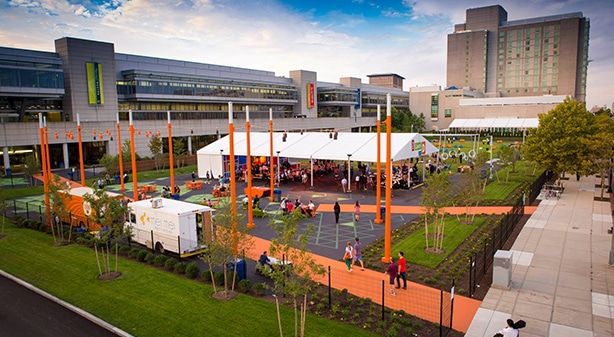 Last month, the 'Lawn on D', a 2.7 acre outdoor event space on D street in Boston's Innovation District, opened to the public. Designed by Sasaki Associates, the site is a first-of-its-kind experimental event space conceived with the intention of generating public engagement, creativity, and to be an urban open space lab for incorporating the Boston Convention & Exhibition Center (BCEC) into the neighborhood with a range of programming. By experimenting with different types of programming, and see what works successfully, designers will be able to better plan for a permanent outdoor space integrated with the BCEC expansion. Fitting for its surrounding context within the Innovation District and neighbor to District Hall, the Lawn on D's experimental design is an innovative approach to urban planning for open spaces in the future.
Thus far, the outdoor event space has attracted both the public and the press, growing in popularity by the week. Open daily, the space includes a creative and colorful array of public seating, art exhibitions, games (ping-pong tables and bocce courts!) as well as free Wi-Fi, and scheduled music and community-driven events happening all of the time. Our friends and fellow US2 team members, Eric Howeler and Meejin Yoon of Howeler and Yoon Architecture designed the giant round swings that have become so popular and can bring out the playful side of any visitor at any age. The swings even glow at night!
Visitors who arrive with an appetite will be happy to know that the space draws local food trucks every day of the week, and  is equipped with picnic tables, and a 5,000 square foot tent with a permanent bar. With amenities like these, the Lawn on D is an outdoor event-planner's dream space for at least the next 18 months.
We look forward to seeing the innovative ways the public will engage with the Lawn on D, and anticipate the many events scheduled to be held there in the coming months.