News
November 3, 2014
The Society of Grownups: Sneak Peek!
//php $catname; ?>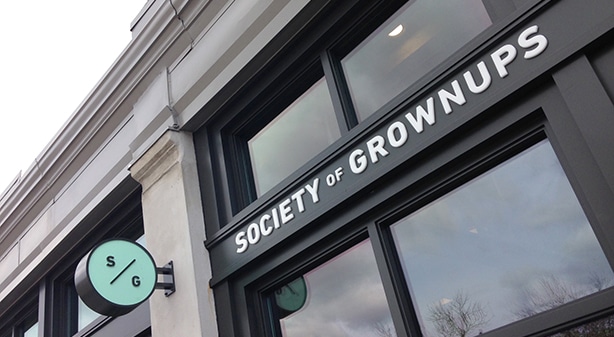 Last weekend, David Hacin visited the Society of Grownups, which opened in October to notable fanfare and generated a lot of interest from the public and press. Hacin worked with financial group, MassMutual, and global design consultancy, IDEO, to design the new storefront location at 1653 Beacon Street in Brookline, MA. Society of Grownups is a MassMutual learning initiative created to help people through the challenges and changes in life that no one likes to talk about – the hard parts of adulthood that everyone assumes everyone else has figured out. The Society is building a community that combines the best of both worlds: a friends-and-family vibe with actual professional advice. With classes, financial advice, supper clubs, and evening and weekend events, Society of Grownups has already created a wide following, and their lineup of classes and events offers something for everyone. Here's a sneak peak of the space!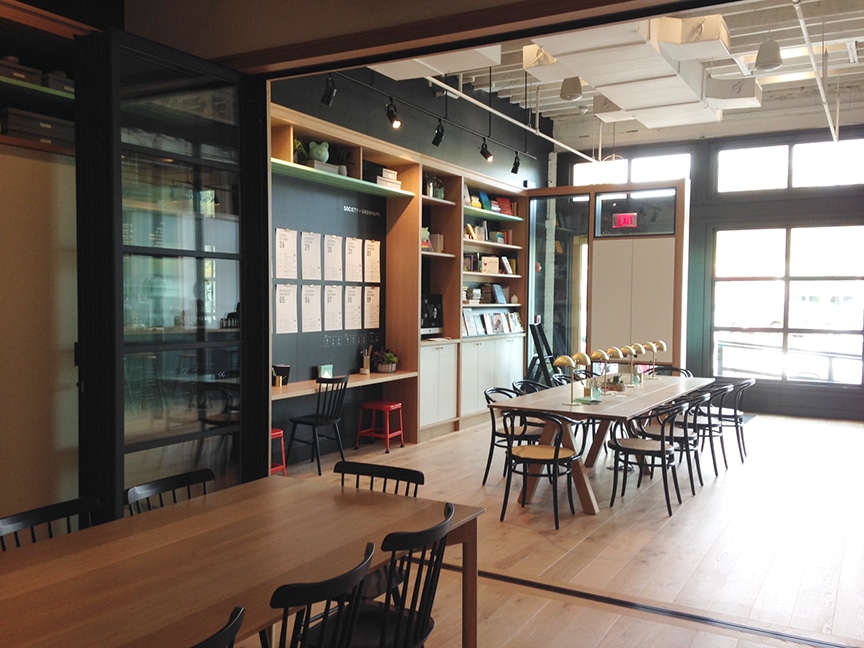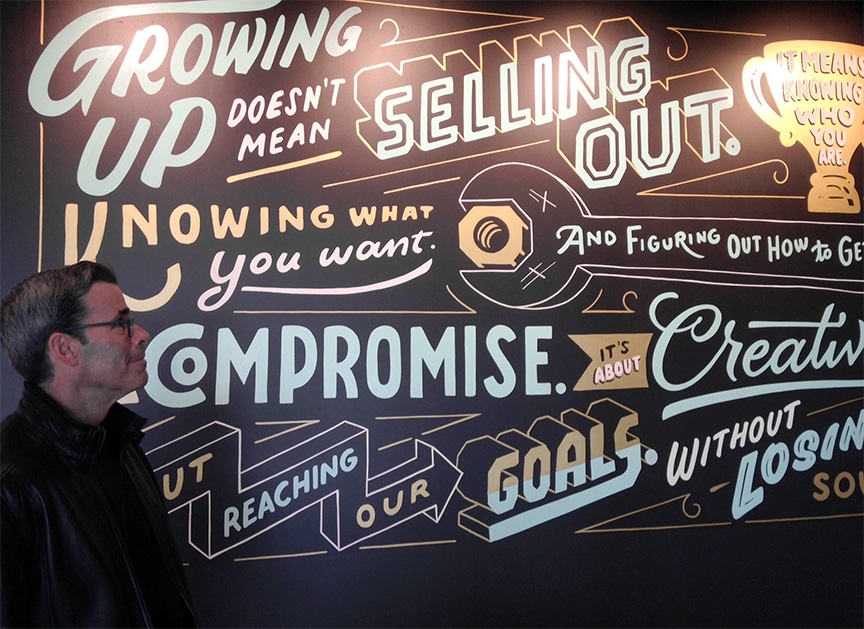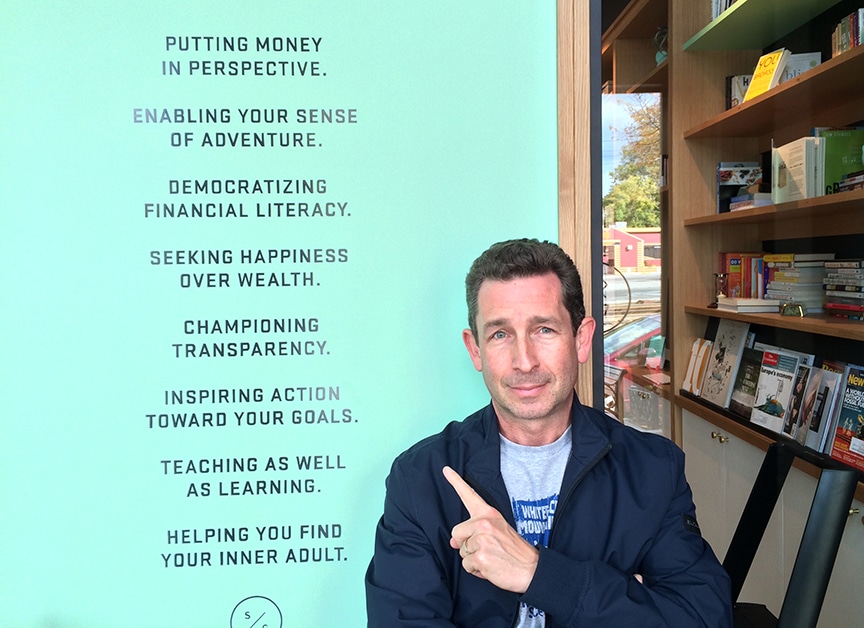 Pictured above, top to bottom: Society of Grownups gathering space for supper clubs, guest speaker events, and one-on-one sessions with clients, wall graphics by IDEO, and David Hacin pointing out the importance of SOG's mission.
Some of the classes that have been held already include, 'No Cereal for Dinner: Learning to Cook Like a Grownup" in which attendees learn to buy and prepare food, and eat well with money leftover. Another class, 'Loans & Groans: A Student Debt Workshop" illustrates ways people can explore options for saving time, stress, and money when deciding how to pay their student loans. If you're interested in learning more about saving for retirement, there are a handful of classes, like "Saving for Retirement (Whatever That Is)" which help teach how saving now allows more freedom later. There are also offerings that delve into making financial investments, negotiating in everyday life situations, and working for yourself.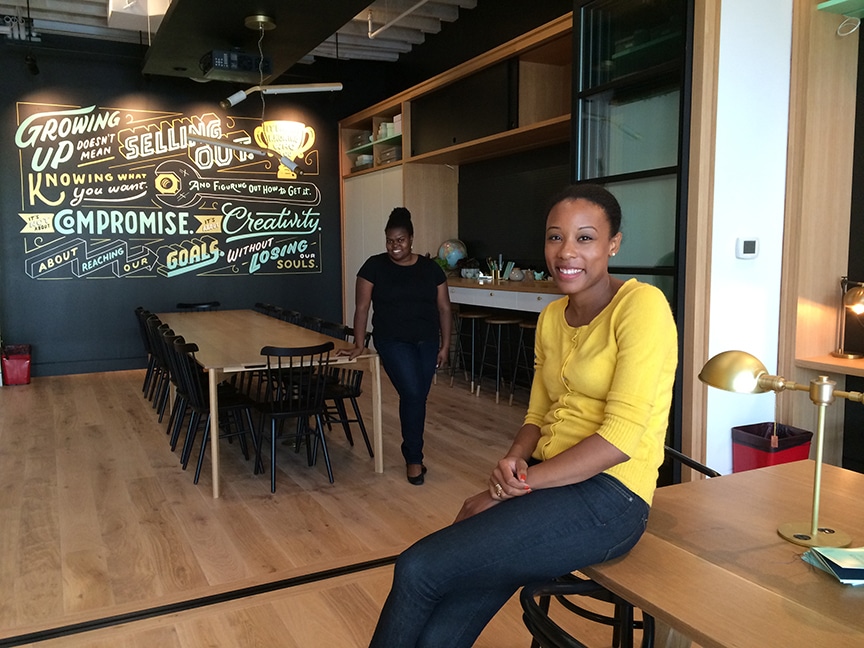 Pictured above: Left, Bianca Gay, and Right, Kimberly R. Lyle, both Community Managers at Society of Grownups
If you're into 'learning that doesn't feel like learning', Society of Grownups holds chats, supper clubs, and special events for those who prefer a more social atmosphere. "The Dos and Do-nuts of Saving" is a supper club event coming up this month, focused on providing practical advice on ways to save money, complete with dinner and wine, and for families, chat sessions like "The Kids are Alright: Kid-Friendly, Stress-Free Adventures in Boston" offer ways to enjoy Boston with the little ones. And of course, their friendly staff is always available for one-on-one sessions to answer your questions and point you in the right direction.
We are so excited to be part of launching Society of Grownups by designing their first-ever location and to support their online mission as well.