News
June 2, 2014
2014 ICFF Blog, Part II: Noteworthy and Influential Design Trends
//php $catname; ?>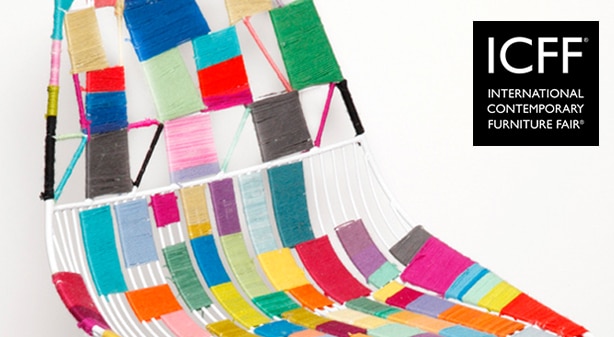 While attending this year's annual International Contemporary Furniture Fair, Hacin designers had the opportunity to check out the current trends in the design industry. Here we review some of the more memorable themes of what designers can expect to see more of this year:
1. Gold + Brass
This year, we are seeing a renewed presence of gold and brass in product design, including lighting, furniture details, decorative accessories, and hardware. Companies like Roll & Hill and Christopher Boots are creating entire lighting families in brass, and even woodworkers are incorporating gold into their work. In Asher Israelow's current furniture collection, gold detailing appears in almost every piece, like the Anamorphic Console pictured below.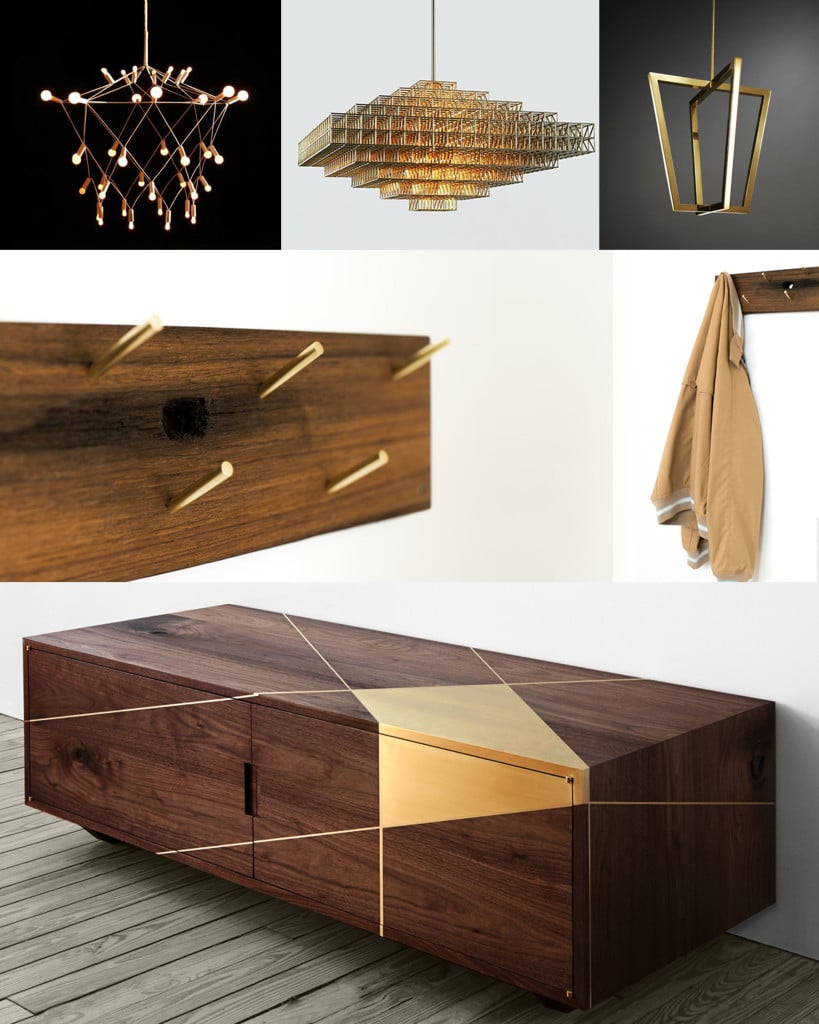 [Left to right, top to bottom: Patrick Townsend White Orbit Chandelier,  Roll and Hill 'Gridlock', Christopher Boots 'Quadrix', Bien Hecho brass coatrack, and Asher Israelow Anamorphic Console]
2. Graphics + Wallpaper
Designers are really embracing graphics this year on everything including furniture, textiles, tile, accessories, and most especially, wallpaper. Patterns, typography, image, and illustration are used in lively and dramatic ways in many of this year's featured designs. Design duos like Quirk and Rescue and Studio Job who specialize in patterned wallpaper, cushions, fabrics, and graphic furniture were a big hit at this year's exhibition.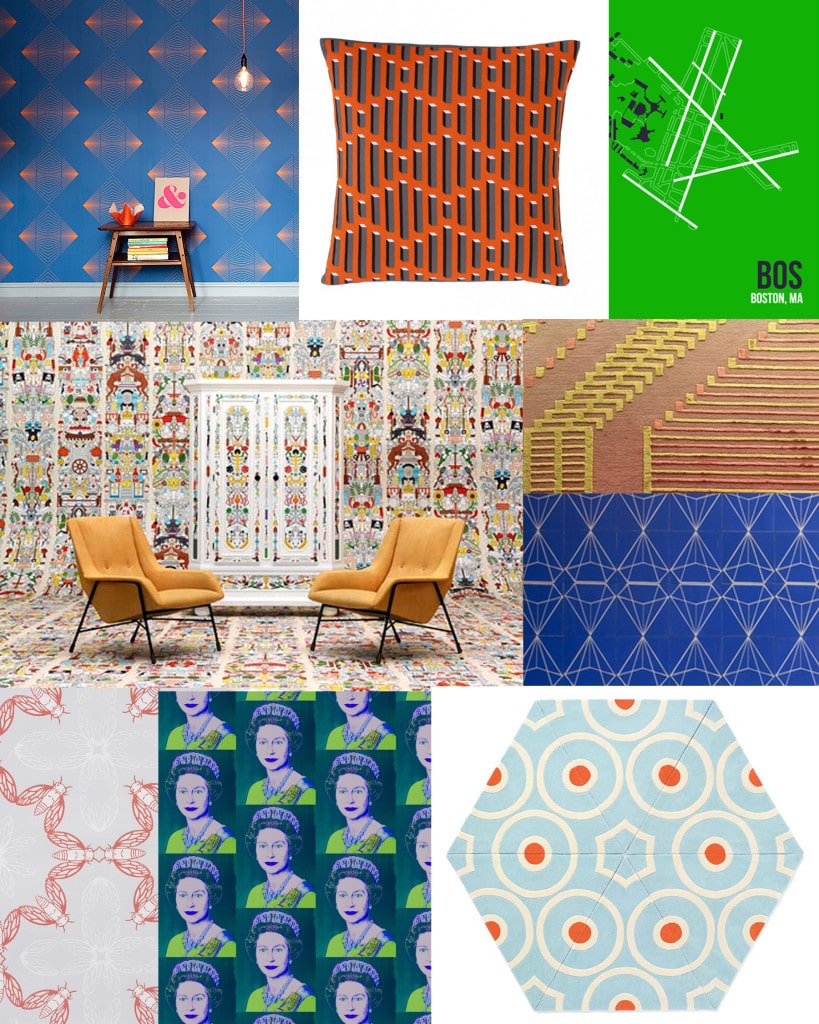 [Left to right, top to bottom: Quirk and Rescue Wallpaper and Throw Pillow, 08 Left Airport Graphics for Artwork and Décor, Studio Job Archives Wallpaper, Inigo Elizalda 'Glitch' Carpet, Moonish 'Golden Rule' Tile, Grow House Grow 'Marseille:Marrakech' Wallpaper, Flavor Paper Warhol Wallpaper Collection 'Queen Elizabeth', Kinderground Tiled Rugs]
3. Bold + Vibrant Colors
Bold, bright colors are making a big statement this year. We are seeing much more widespread, vibrant, and uninhibited use of color in furniture and fixture design. Powder-coated metals, richly colored glass and ceramics, and color washes over natural woods were seen in abundance.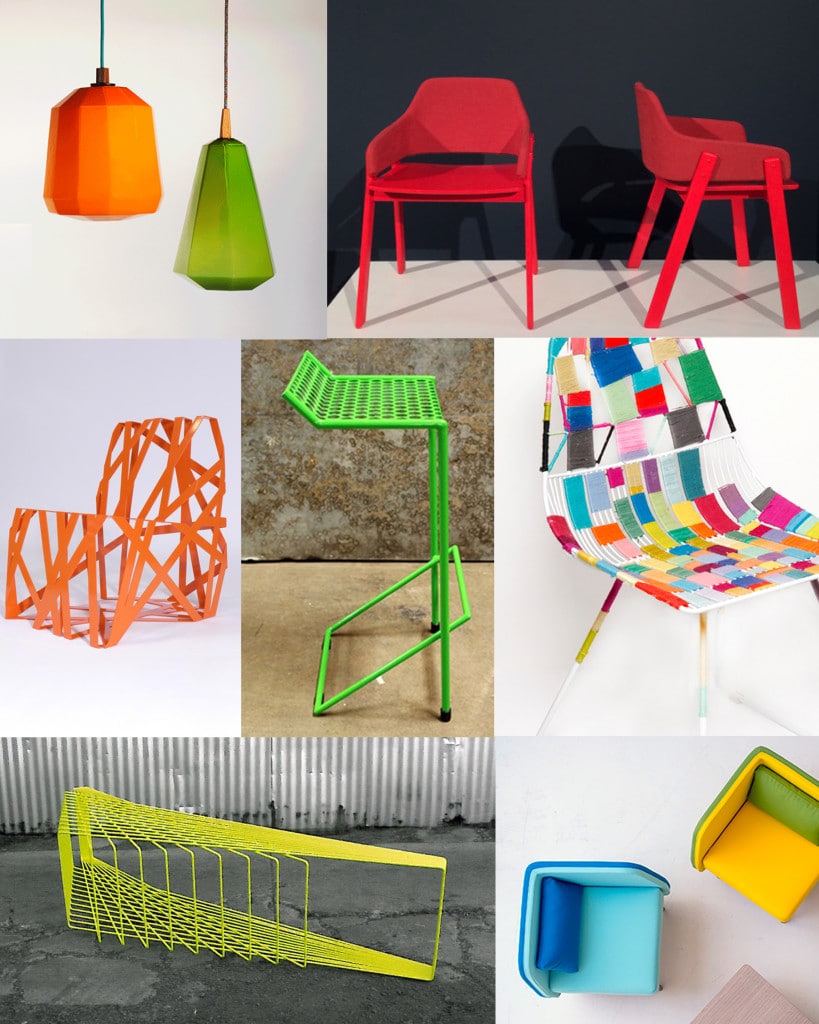 [Left to right, top to bottom: Token Poly Pop Pendant Lights, BluDot Clutch Chair, JListon Design 'Ribbon Chair', RAD Furniture 'Howard Stool', Edward Granger 'Lucy Chair', T.J. O'Keefe 'Field' Metal Bench, Two Six 'Bi Silla' Chair]
4. LED Lighting
Many would agree that lighting, in general, really stole the show at ICFF this year, and it was no surprise that LED lighting had a prominent role to play. Designers have shown an increasing interest in LED lighting over the last few years, but with improvements in technology and creative product design, we are seeing more sophisticated and innovative LED lighting appearing in the market every year.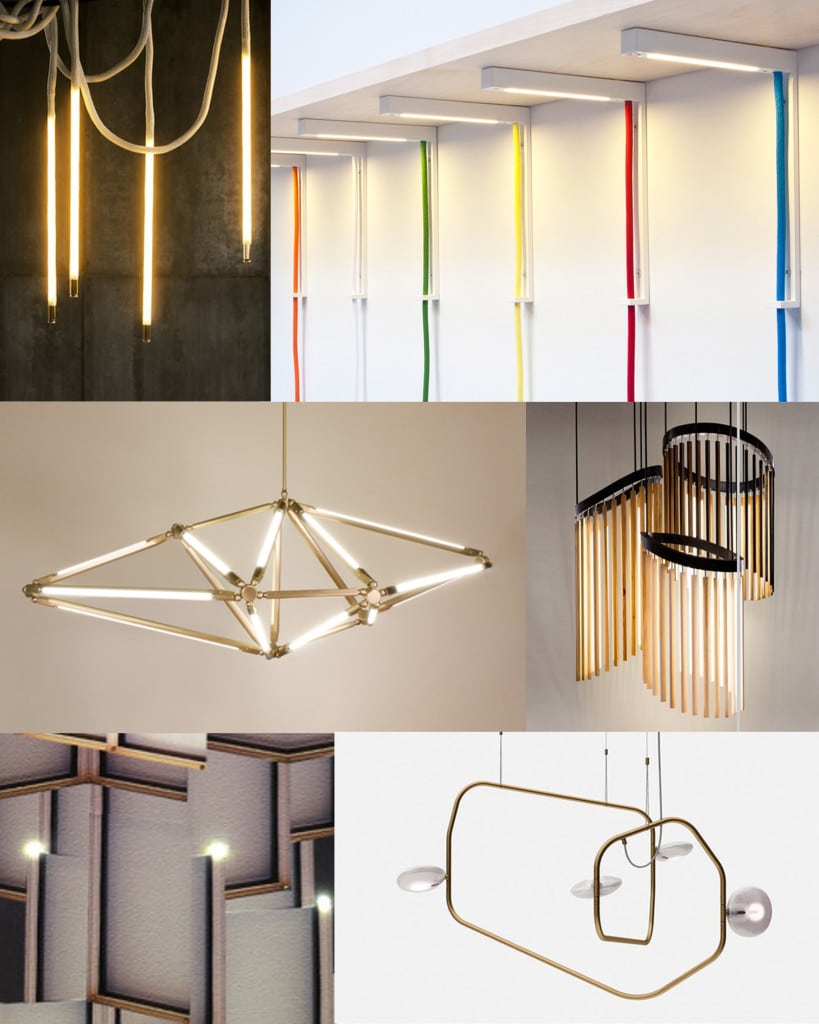 [Left to right, top to bottom: Luke Lamp Co. 'Rope Chandelier', AlexAllen Studio LightBracket, BEC Brittain 'Shy' Light, StickBulb 'Chime' Chandelier, Meystyle LED Wallpaper, Rich Brilliant Willing Palindrome Light]
Check out Part I of our series: We share Hacin's Favorite Picks from ICFF 2014!