News
November 12, 2015
H+ Magazine, Issue No. 3 | Living in the City
//php $catname; ?>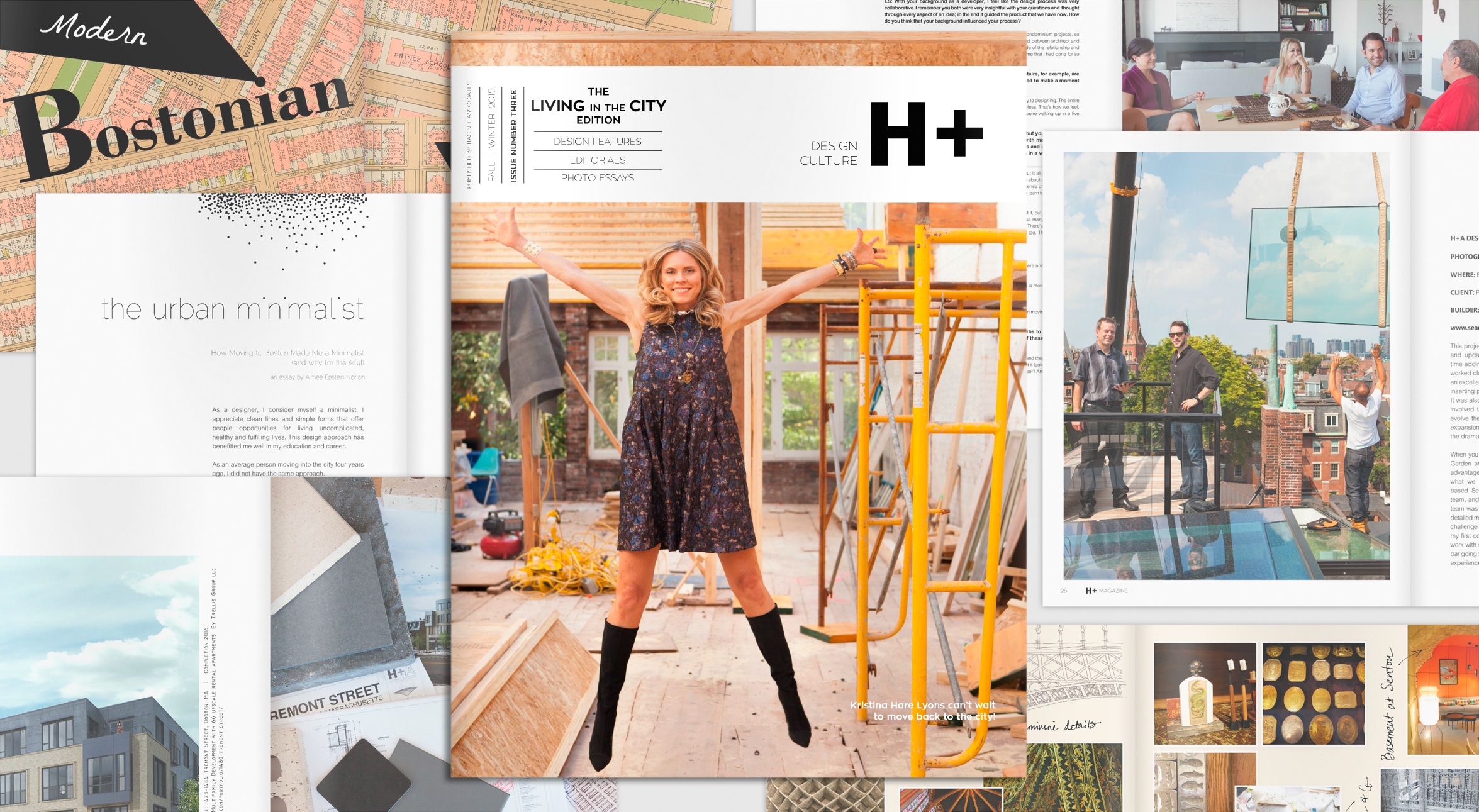 The third issue of H+ Magazine is out! Issue no.3, the 'Living in the City' edition, is a nod to our quickly evolving city and its skyline and the people who are moving into or returning to the city to be part of a new chapter. In this edition, Hacin's architects and designers are photographed on site at several of our residential projects under construction in the city right now; Some of our builders offer advice for homeowners about building and renovating in an urban environment; Four Bostonian women who also happen to be our clients – Tamar Salter Frieze, Maggie Gold Seelig, Joanne Chang, and our cover girl, Kristina Lyons – share their entrepreneurial expertise and perspectives on living in the city; and a couple returning to Boston after three decades talks about working with us to reclaim the apartment they lived in as newlyweds. Fitting for the theme, Team Hacin pays homage to some favorite fictional city apartments on the big and small screens, and showcases some of our own design palettes for Boston's newest residences. Hacin Designer Aimee Epstein Norton offers some poignant thoughts on the minimalist lifestyle's effect on the mind, body, and soul, and we make the journey to Paris through the eyes of Interior Designer Jennifer Clapp.
In other exciting new, H+ Magazine has been recognized with four awards from the 2015 Content Marketing Awards and the 2015 MarCom Awards. Both of these awards programs are international creative competitions which recognize and award the best creative agencies in the industry each year across the globe, and we're honored to be included among them. The magazine received a Content Marketing Award for Best Use of Photography, and three Platinum Awards from the Association of Marketing and Communication Professionals for its Photography and Design Creativity.
Check out this issue online or in print, and send us your feedback! All issues can be found here.