News
November 1, 2023
Hacin + Heard | November 2023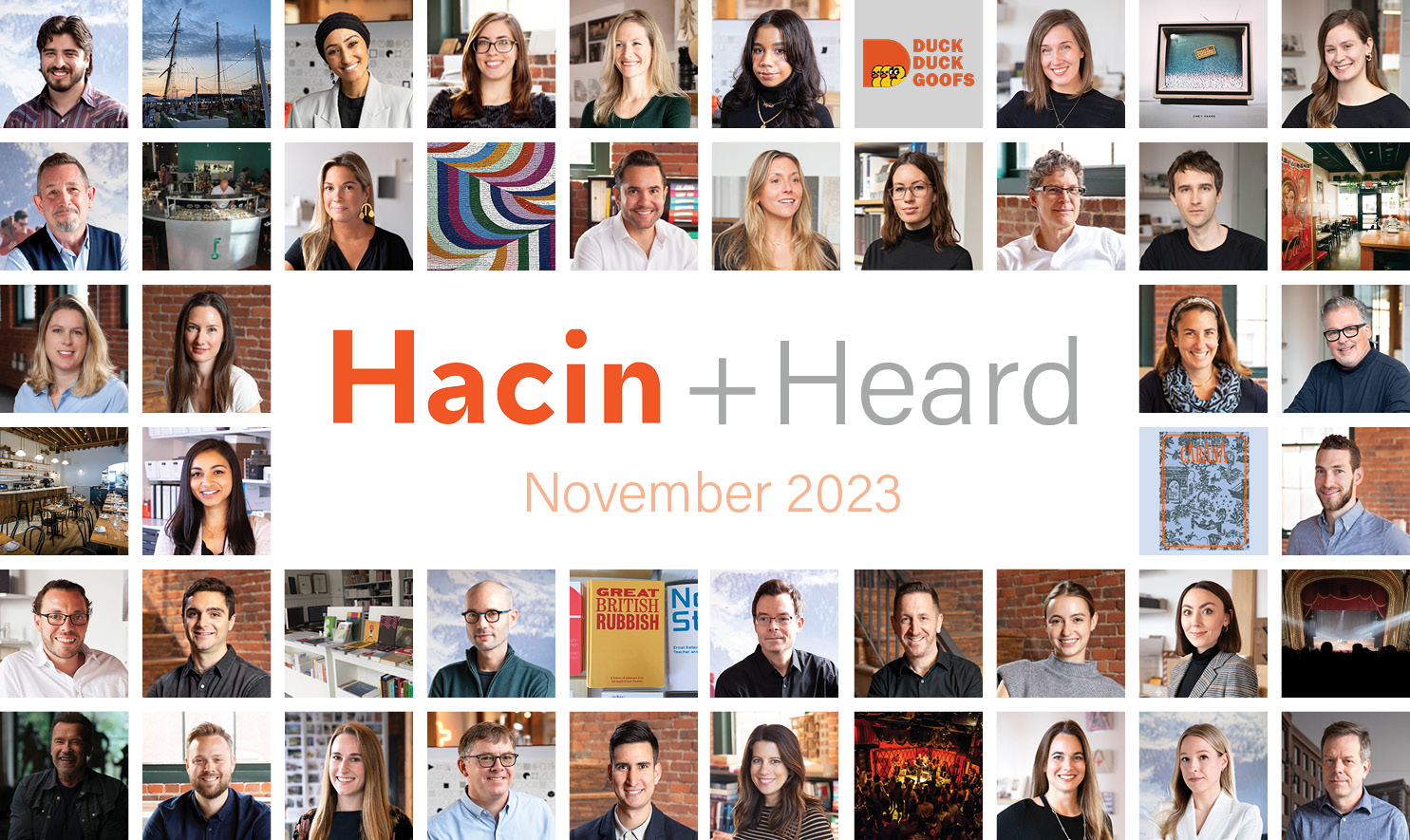 If you've been a part of our community for awhile, you may remember our self-published H+ Magazine, which always featured a culture section where our team members would weigh in on what they're currently watching, listening to, reading, and more. We've decided to bring back this concept with a monthly download on what's piquing #teamhacin's interest at the moment! We're pleased to present the first edition of "Hacin + Heard" and hope you'll follow along each month (and send us your recommendations, as well!).
LOOK:
Katherine Small Gallery opened in the spring of 2018 to encourage affordable collecting as a way for graphic designers and students of design to learn about the history of their field. Anything not formed in nature was designed by someone, and if one collects enough of one type of thing—books, movie tickets, candy wrappers, stamps—the story of their design can be discerned. This place is about looking closely at things that are usually overlooked. [Scott Thomson]
Now House by Jonathan Adler Jigsaw Puzzle – A kaleidoscopic wave of color from Jonathan Adler's line of home goods will help clear your head and brighten your table top at the same time! But beware, its 1000 pieces will keep you busy for quite some time. [David Hacin]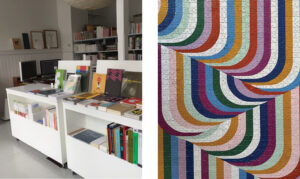 LISTEN:
Chet Faker is an Australian singer/songwriter I stumbled across during a Peloton yoga class (s/o to Anna Greenberg!). Apparently he's been around for a decade or so, and gained fame for his cover of Blackstreets' "No Diggity" which is SO GOOD. He combines traditional instrumentation, digital soundscapes, and fragile, intimate vocals. His work is described as "soulful electronica" and makes for really great yoga/work/relaxing on a rainy afternoon music. Give it a listen! [Aimee Epstein Norton]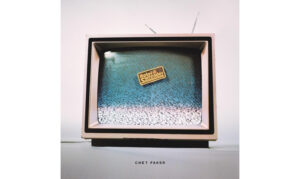 READ:
Each issue of Cabana Magazine has a different textile or patterned cover (the current issue is designed by Tiffany & Co. and printed in silk), making it a fun, beautiful, collectible piece to appreciate and go back to for continued inspiration. I admire how different this magazine is to other publications I read – starting with the unique cover design and decadently detailed pages infused with vibrant design – ranging from interiors, travel, photography, fashion, decorative arts, and more. [Kim Boutwell]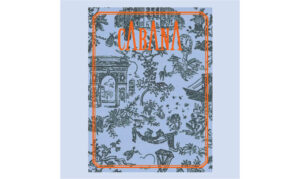 WATCH:
Arnold on Netflix is an interesting peek into the life of superstar Arnold Schwarzenegger. This intimate docuseries follows Arnold Schwarzenegger's multifaceted life and career, from bodybuilding champ to Hollywood icon to politician. [Matt Arnold]
Duck Duck Goofs is an independently owned comedy club that does some very funny shows at unique venues around Boston. Shows are usually held at dive bars in the Cambridge area, but they also have weekly shows at the Cambridge Community Center and are opening a permanent location sometime soon. [Matt LoBosco]
Nick Cave & the Bad Seeds performed songs from his extensive catalog on a rare solo tour of North America, stopping at Boston's Boch Center Wang Theatre with Radiohead's Colin Greenwood on bass. An intimate show of some of Nick and the Bad Seeds' best work elegantly performed on a grand piano and bass guitar. [Scott Thomson]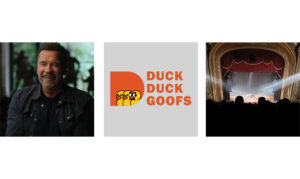 EAT:
Located on Lynde Street, Settler is the perfect spot in Salem, MA for upscale yet approachable dining in an intimate and chic atmosphere. Chef Aaron Chambers, who has experience working in Michelin-starred restaurants in the UK, Dubai, and the US, creates seasonal Mediterranean menus using fresh, local ingredients. If available on your visit, the Basque Style Cheesecake is not to be missed for dessert. [Madeline Wright]
Tonino is a new, cozy neighborhood Italian restaurant on Centre Street in Jamaica Plain. They feature all handmade pasta and their in-house bread is absolutely amazing! It's a great place to stop for dinner, especially as the weather gets colder and the restaurant is a very welcome addition to the local food scene in the neighborhood- it's truly a must try! [Matt Arnold]
Focused on local seafood, The Franklin in Portsmouth, NH is run by James Beard semifinalist Matt Louis and offers a comfortable, delicious dining experience. Enjoy a creative cocktail with a selection of local fresh oysters followed by some great options for vegetarians as well as land lubbers like the Dirty Frankie chicken thigh. The Shrimp 'n Grits defies explanation – just enjoy! [Rob Clocker]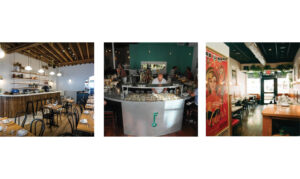 EXPLORE:
The Tall Ship Boston is a cool outdoor food and entertainment venue full of games and activities on the East Boston waterfront. They have an array of food options and the main bar is on a large sailboat anchored to the pier. The space has amazing views of the city's skyline and is an amazing place to watch the sunset over Boston. Check it out before it closes for the season! [Matt Arnold]
A recently opened venue in Fenway, Rockwood Music Hall Boston hosts emerging musical acts of all genres and styles 7 days a week. It's a great spot to discover a new favorite musical act and one of my favorite local bands, Copilot, is performing there on November 3rd! [Katie Dayton]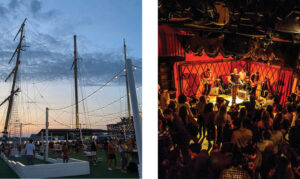 Stay up to date on other studio happenings and announcements by following us on Instagram, Facebook, and LinkedIn!