News
October 23, 2014
Introducing H+ Magazine! Our own editorial take on design + culture
//php $catname; ?>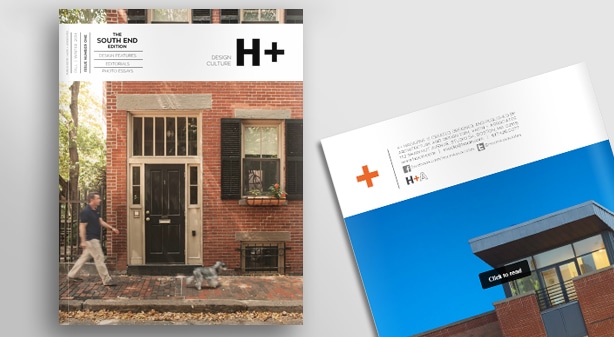 We are excited to share with you our newest creative venture, H+ Magazine! Created, designed, and produced by Hacin, the magazine is intended to reach out directly to friends, colleagues, collaborators, and the local community. H+ Magazine will be published in print and digital form, semi-annually, with Spring and Fall editions each year.
H+ Magazine is both an extension of and a departure from the Hacin blog and social media and it reflects our design team's love of design, graphics, food, photography, and the people who influence us. With David Hacin as the Editor-in-Chief and the entire Hacin team as contributors to the editorial content of the publication, H+ Magazine also engages local businesses, former and current clients, vendors, and collaborators to create its features and advertising content. The introduction of the magazine also signals a new development at Hacin: this year we expanded the integration of design disciplines to include branding and graphic design consultancy for architectural clients.
The inaugural issue focuses on Boston's South End. The issue pays homage to the neighborhood that gave Hacin its start and gave the firm the opportunity to play a progressive role in its redevelopment. In it, you'll find an illustrated walking tour of great spots in the South End, the Hacin interiors team with some inspired finds at local stores in the neighborhood, a photo essay of David Hacin's photographs of curious places around the world, and an essay about Boston's unique character and architectural identity.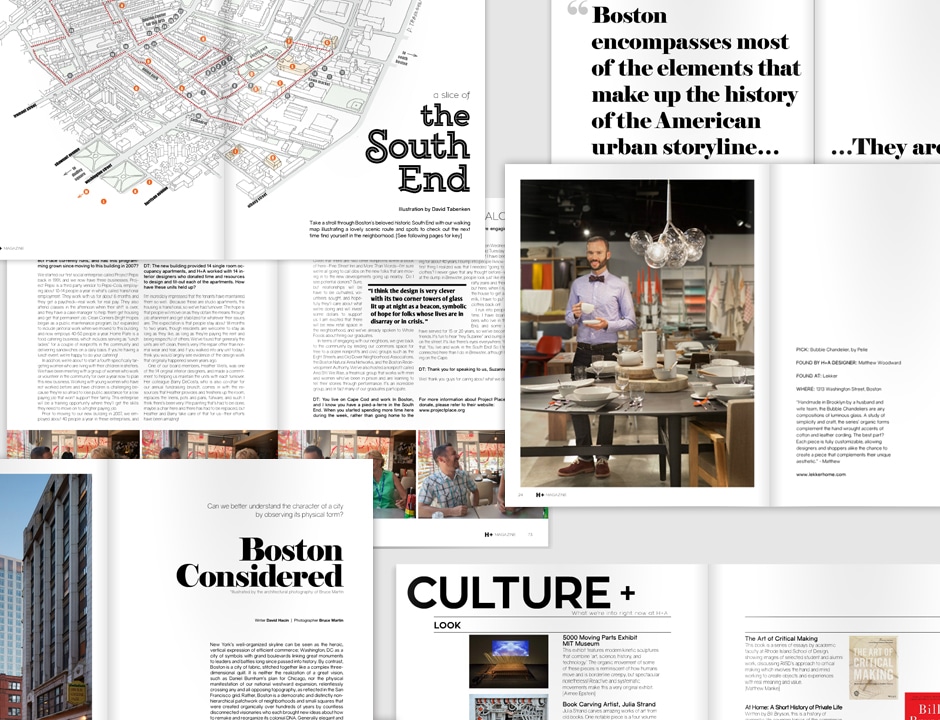 Rachel Slade, Executive Editor at Boston Magazine, weighed in on the publication: "Creating spaces from one's imagination certainly takes a modicum of talent, but assembling a magazine, one that speaks elegantly of the complex city that is Boston, requires exquisite sensitivity and tremendous skill. Hacin's latest foray into the creative unknown, H+ tells the South End story with charming idiosyncrasy. Throughout the publication, skilled art direction, photography, and bouncy prose underscore a deeply thoughtful and varied approach to place-making…Hacin's team dove into the literature, music, and artistic endeavors that influence their thinking as they consider all the ways that Boston shapes us, and we it."
Over the last 20 years Hacin has grown and attracted a diverse group of dynamic and talented design professionals who bring a wide range of creative and often unexpected influences to the firm's work. The idea of this semi-annual publication was to express that aspect of the firm's collective identity as well as that of the inspired individuals who form the firm. We hope you enjoy this first issue and we welcome your feedback!
*A limited number of print editions are available. To request a copy, please email media@hacin.com.