News
August 22, 2023
St. James African Orthodox Church Purchased by Roxbury Action Program
//php $catname; ?>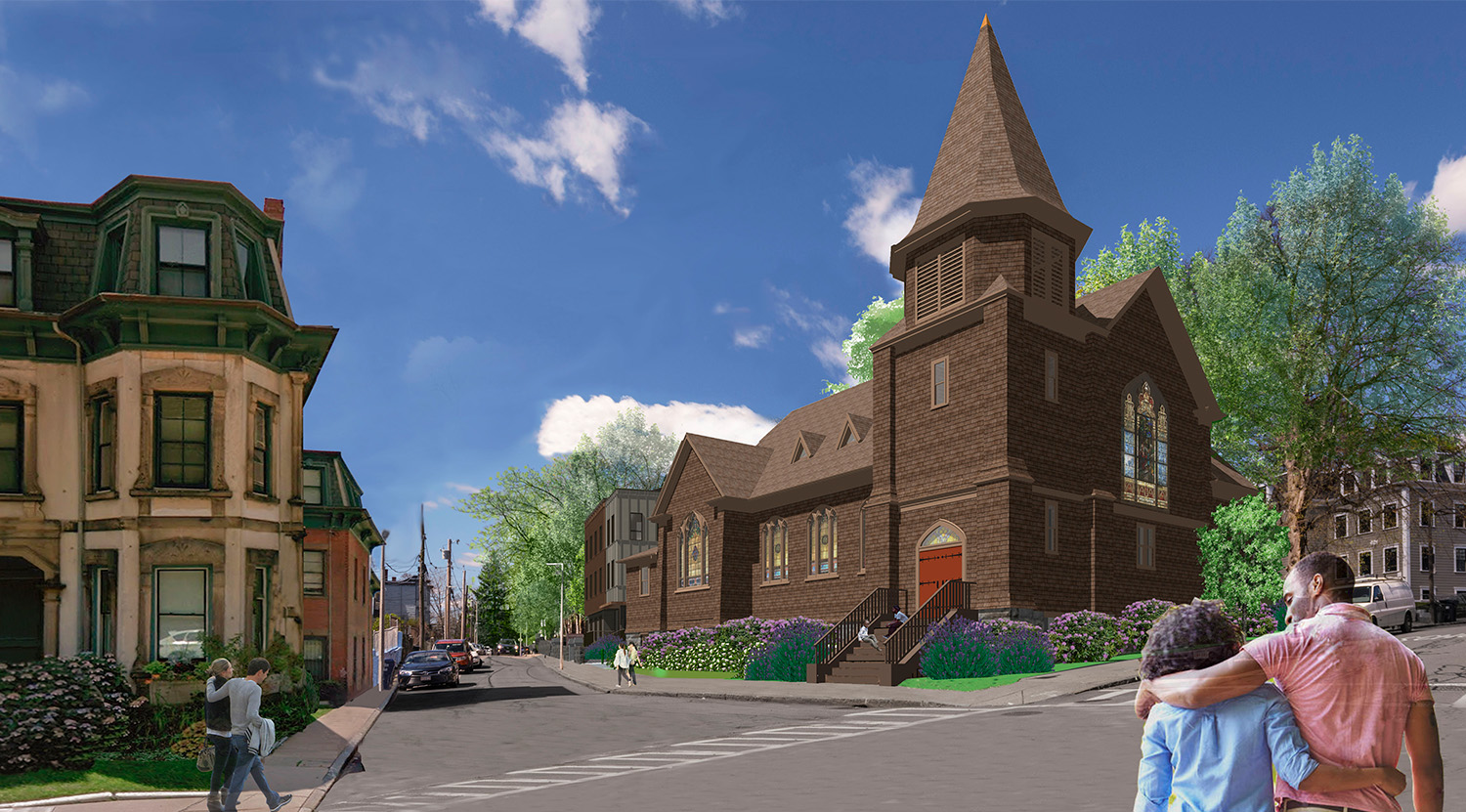 The St. James African Orthodox Church, located in the Highland Park neighborhood of Roxbury, was purchased in July of this year by the Roxbury Action Program from Historic Boston, Inc (HBI). Hacin, originally hired by HBI in 2019 for the restoration and rehabilitation of the church building as well as the development of new residential units in the church's parking lot, has been engaged by the new owners of the historic building in order to envision a new program for the space that would position it as a hub for social programs and community development for the area.
The church building at 50 Cedar Street is considered the "Mother Church" by Evangelical Free Church of America. Built in 1910, it was formerly known as the Norwegian Evangelical Congregational Church and served as a centralized cultural connection for Norwegian immigrants and the broader Scandinavian community across New England. The church later converted religious functions to serve Boston's significant African American community in 1955, attracting a growing community of Caribbean immigrants. For 50 years, St. James African Orthodox Church fostered a dawning African American consciousness that contributed to the Civil Rights movement and the idea of African American autonomy. Overall, the church building has established itself as an ambassador of community organization, playing a vital role in the history of these two distinct immigrant communities on both a local and regional scale.
In previous years, Hacin collaborated with HBI to oversee the repair of deteriorated floor structures in the church, as well as securing windows and doors and conducting a full assessment of the building's conditions. The roof was repaired and replaced in various areas in order to prevent further water damage to the building and a variety of feasible re-use option were studied. Click here to read a guest blog post for HBI by Scott Thomson, principal at Hacin, detailing part of the work completed at 50 Cedar Street through 2022. Hacin welcomes the opportunity to reengage on this project with the Roxbury Action Program in order to help the organization achieve their goals of bringing prosperity, financial literacy, education, resources, and opportunities to the Roxbury Community through 50 Cedar Street.